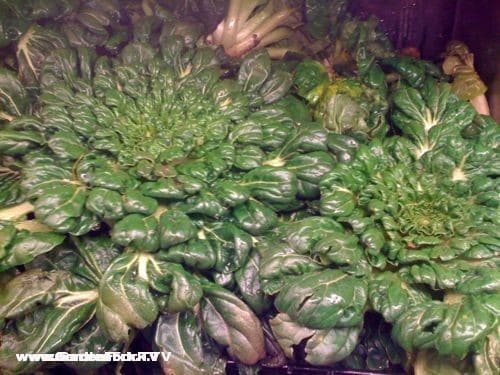 We just shot a Gardenfork episode about gardening in winter. We shot it on Christmas Day, and I had neglected to pull out my portable cold frame  - watch our how to make a cold frame video here - and I did not cover my raised beds with black plastic before the beds froze solid and snow piled on top of them. So I pulled off the snow and put on the plastic.
In the show we talk about Eliot Coleman's book The Four Season Gardener, and one of the greens you can grow in winter is Tatsoi . I saw some great Tatsoi in the Park Slope Food Coop last week, so I had to take a picture and share it with you all.
The Tatsoi in the Food Coop was huge compared to how it grows in my garden, mine does not get nearly as big. I'm wondering if I'm not growing it right, or buying the seed of a minature version.
Tatsoi is an Asian Mustard, and it is cold hardy down to 15F. You can buy Tatsoi seed from Fedco Seeds .
Jessica from the Food Mayhem blog suggests that you can use it as a substitute in any recipe that calls for Bok Choy. I use it in salads, and you can treat it like most hardy greens such as kale and other mustards and saute it with olive oil and garlic. I don't know the nutrional content of Tatsoi, but its green so its good, i think.
Have you all grown Tatsoi or used it in cooking? Let us know below: