On Twitter, Alexa asked me and a few foraging experts about identifying Mustard Garlic, and at the same time, she introduced me to 4 foragers who have websites and books on foraging.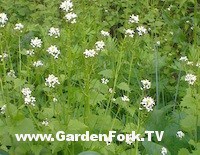 Full Disclosure: I am not the high priest expert on foraging or edible plants. Like most things, I know enough to be dangerous. But Alexa was nice enough to include me in her question.
Now that my place on the foraging scale is clear, here is a GardenFork video we did on foraging Garlic Mustard and Stinging Nettles to make a great Garlic Mustard Nettles pesto recipe.
This is what I love about creating GardenFork - people who I've met introduce me to new people doing cool stuff. In no particular order here are 4 foraging wild food people who I now read thanks to Alexa, please check out their sites and social media feeds:
Tama Matsuoka Wong, @meadowsandmore,  is a self-described weed eater, and is a TEDx speaker. She partners with Chef Eddy Leroux on their site, Meadows and More. They also both work with Restaurant Daniel in NYC. Tama and Eddy have published Forage Flavor, Finding Fabulous Ingredients In Your Backyard or Farmer's Market.
Becky Lerner, @UrbanForager, has a blog on Urban Foraging: Wild Plants for Food, Medicine, and More in Portland, Oregon. Becky has published Dandelion Hunter: Foraging the Urban Wilderness. I like what Rolling Stone wrote about Rebecca and her book:
If and when the apocalypse arrives, you'll want Rebecca Lerner by your side.
Go check out her blog and book and ask about the 9 month wilderness survival program she took.
Langdon Cook, @langdoncook, whose blog is Fat Of The Land, Adventures of a 21st Century Forager, also has a book of the same name. His expertise is in wild foods and the outdoors. Langdon hosts foraging workshops like many do, but he teaches about foraging for shellfish, which never crossed my mind before.
This being one of those head-slap moments, because I go surfcasting on the Rockaways, and I bet there are shellfish there too. ( Here's a video we did on Surfcasting )
Karen Monger, @the3foragers, and her family go foraging, and document their experiences on their blog, The 3 Foragers. Karen lives in Southern Connecticut, I live in Northwestern Connecticut, so we come across many of the same plants. We are lucky to have an abundance of mushrooms at certain times of the year. (Last fall we had a ton of oyster mushrooms in our area, here's a video we did on them.) I like the posts Karen has put together about foraging for invasives that are prevalent in our area. We'll be doing a video about one of them, Japanese Knotweed.
Get their books on Indiebound:
Foraged Flavor from IndieBound
Dandelion Hunter from IndieBound
Fat Of The Land from IndieBound