Learn how to forage for edible wild greens and identify edible plants in this Foraging for Purslane video. Edible plants like Purslane are sometimes considered weeds, but you can eat them, watch and learn here in this GardenFork foraging video.

Purslane grows all over the place, ( it grows well in compacted and dry soils ) so all you urban homesteaders rejoice, here's a free salad green that grows like a weed. Purslane is considered a succulent, it kinda looks like the leaves of a jade plant, that whole family of plants. We have purslane volunteering in our garden, so if I run across it, I usually just let it grow and harvest it before it takes over whatever plants are next to it.
From the Purslane Wikipedia entry, I learned a lot about purslane. Purslane is eaten all over the world, just not here in the states. The leaves and stem are edible, not sure about the taproot. It is eaten raw and cooked, and it has a 'mucilangious quality' it is also cooked into soups and stews and can thicken dishes.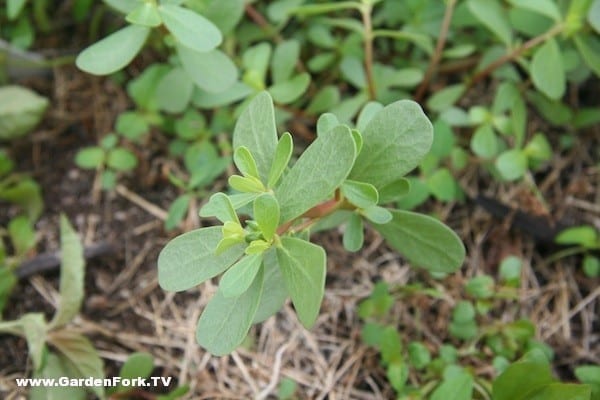 Greeks fry the leaves with sage, in Turkey it is cooked like spinach, and again, here, we pull it out as a weed.
What I found cool is that it has high levels of Omega 3 fatty acids, which few plants have. One usually has to eat fish to get high omega 3 levels. This edible wild green also has antioxidant properties.
Do you eat purslane? what is your favorite wild edible green?