Mike recently tweeted a challenge: Come up with a snack that would fix his crunchy-sweet-salty craving without going overboard on calories. When Monica suggested roasted chickpeas, I also got a hankering in need of quenching. So, I set out to recreate a recipe I used to make often. Why had I stopped? Well, somehow this particular snack slipped out of rotation, I guess. I'm always experimenting and there's just not enough time (or room in my stomach) for all things tasty. Thanks Mike and Monica for resurrecting this treat back into my life!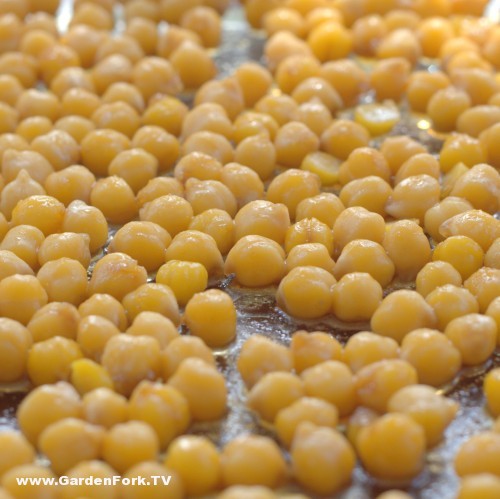 Some tips for roasting chickpeas:
Cook your own chickpeas from dried beans. You can use canned but the texture won't be nearly as satisfying.
Cool and dry the chickpeas. You want the beans to be really dry so that they crisp up well. If you cool them in an open container in the fridge they should lose enough moisture to avoid the labor of patting them down with a paper or dish towel.
Don't be afraid to cook them a little longer than you think you should. You're looking for a deeply golden color to reach optimum crunchiness.
Experiment with seasonings. You can add your favorite herbs or spices to the base recipe below. I love garam masala, red pepper flakes, or finely chopped rosemary.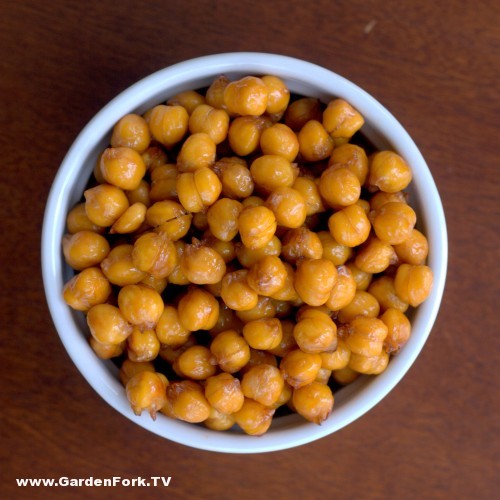 Sweet and Salty Roasted Chickpeas
Ingredients
•    2 c cooked chickpeas
•    2 tablespoon brown sugar
•    ½ tablespoon olive oil
•    ½ tablespoon kosher or sea salt
Cooking Directions
1. Preheat the oven to 400 degrees. Toss the chickpeas with the brown sugar and olive oil and spread in a single layer on a baking sheet or in a baking dish.
2. Roast the chickpeas for 30-40 minutes, stirring every 10 minutes or so, until golden brown and caramelized. Don't be afraid to let them go "just a little longer"! Toss with the salt while hot.