Erin from The Impatient Gardener   joins Eric to talk about garden predictions, the pain part of freecycle and craigslist's free section, waffles and making your own DIY pendant lamp.
Erin says raised beds are trending. Eric agrees, plus they are very practical, which is what GardenFork is all about. Watch our how to build a raised bed videos here.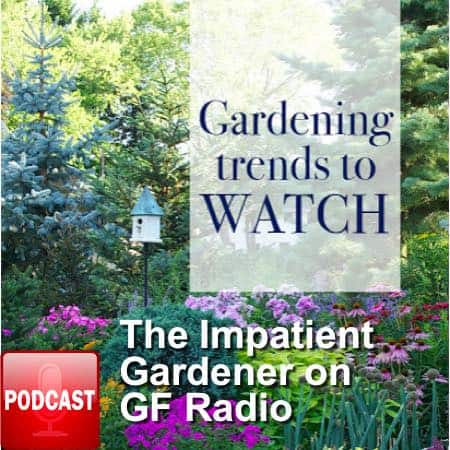 Outbuildings are trending, maybe a tangent from the Tiny House movement. Eric saw a prefab grandparents house that one can drop in to a backyard. Whether that kind of house would work with local building codes is a question to be answered locally.
People not showing up after agreeing to pick up a free item you have listed on Freecycle or Craigslist is a constant problem. Eric and Erin recount their experiences and some solutions that work for them. Local seems to work better, especially NextDoor.com for giving away free stuff.
Homemade Yeasted Waffles are discussed, with an overnight rise in the fridge. The flavor blows away quick waffle batters, but does require a bit of planning, as you make the batter the night before. The overnight cold rise works great. Use less batter than you think you should in the waffle maker, FYI.
We talk about Erin's basement renovation with a home office, and what that entails. Eric noticed a retro lamp Erin wanted to use in the basement project and pointed out one can make these lamps themselves, as GF has a video about it. How unusual...
Erin's post on how to ditch cable, aka cutting the cord, is here. Eric and Erin have similar systems for getting rid of cable TV, though Eric does not have a DVR. It doesn't hurt to examine your cable bill occasionally, BTW.
Support GardenFork, become a monthly supporter on Patreon, via PayPal.
Get our email newsletter, sign up here!
Save
Save