Today we explain what is green manure, how to grow it, and what to do to it. Responding to two viewer mails in one week, we figured we might as well talk a bit about gardening and the use of green manure. Buckwheat is often used for green manure, but there are also other plants you can use.
You can buy green manures from the Organic Grower Supply division of Fedco Seeds.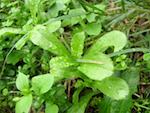 But first we have to talk about how to behave on an airplane. Eric tells of a recent flight and the antics he got to watch and endure. Rick has his opinion, of course.
And we talk a bit more about geothermal energy, with an email from KC and using a lake as a heat sink to cool building.
But Eric wants to hear from you about how to behave on a flight, and how to moderate the behavior of other passengers.