Here's how we use a bee escape to harvest honey. When you harvest honey from your beehive, you need to get the bees out of the honey super ( the box of frames that has honey it it, usually the topmost super ). You can do this several ways; commercial beekeepers remove the bees from the honey super with a blast of air, you can use a fume board, which you put on top of the honey super to drive the bees out of that super, or you can use a bee escape. Watch our video how to harvest honey using a fume board here
A bee escape is basically a one way door that you slide in between the honey super and the top brood super. You leave it there for a day or two, and when you take off the honey super, it will be empty of bees. Watch our video here on how to remove bees from a honey super using a bee escape
I have found that leaving the bee escape on the beehive for 2 days is better than overnight. You will always have some bees still in the honey super, but that is a lot easier than removing a lot of bees from the honey super. Some hives will start to draw comb if you leave it in too long.
It isn't shown here, but in newer versions of this, I added a ⅝" upper entrance hole to the escape to take the place of the entrance on the inner cover, which we have covered in tape.
Here is the double three way bee escape I made. I based it on several on the internet. The hardest part is cutting the angle cuts of each piece of wood. the cut are either 30 degrees or 60 degrees, depending on how you set up your saw. The gaps between the sides of the triangle are at least ⅜' wide. I used regular window screen to cover this. The outer pieces of wood are 12.5" long, the inner pieces are 7.75" long.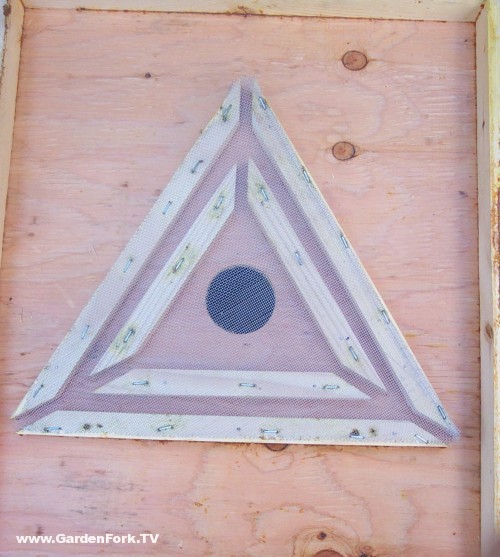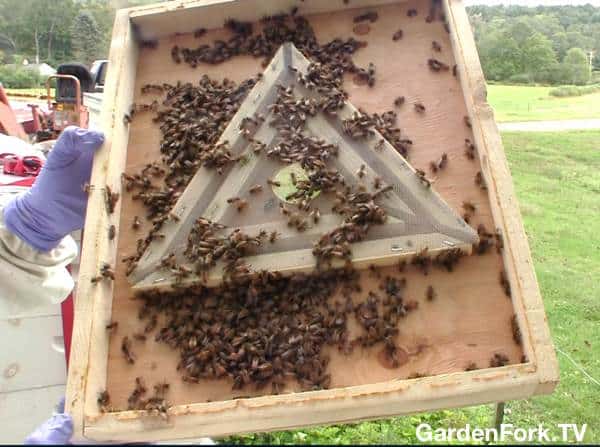 Questions or comments? Let us know below, we'll answer to the best of our ability. thx.