This homemade garlic planting tool helps if you are planting more than a few rows of garlic. Planting a few rows of garlic in your home garden is pretty straightforward. To plant garlic for a market grower is a bigger deal. I was asked by a neighbor who sells garlic to help him plant seed garlic before the coming snow storm. The storm dumped 20" of snow on this field a few hours after we finished planting garlic. Watch our How To Plant & Grow Garlic video here.
While we were planting garlic I took photos to show you all how a market farmer plants garlic. This garlic field is not large enough for heavy equipment, so while the garlic is planted by hand, this homemade garlic planting tool might help small farmers reading this.
All the seed garlic bulbs are broken apart by hand, I don't know of a mechanical method to do this, though I'm sure a machine exists for large scale garlic growers.
First of all, the field is tilled with a small disc several times to turn over all the weeds and cover crops, then the rows of garlic are staked out with string. Each row is 5 plants wide, then there is a 24" wide space between rows. This space should be the width of your rototiller, so you can till under weeds that grow on the walking paths between the rows of garlic.
The holes the seed garlic is placed in are made by this homemade garlic planter rig built by the farmer. It has 5 metal tips on it, with two pieces of wood jutting out perpendicular for proper spacing between rows. Two people move the garlic seed hole maker along the row. When pressing the rig into the soil to make the holes, each person places a foot on the rig to make the holes. The rig is rocked back and forth to firm up the walls of the holes.
The seed garlic is put in each hole by hand - be sure to use knee pads - you're on your knees a long time in this process.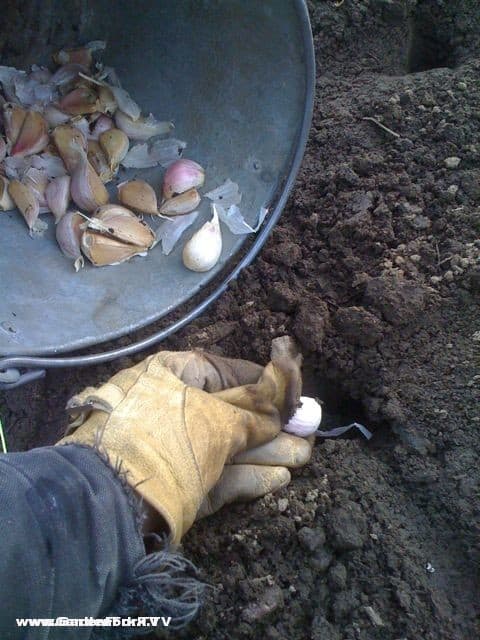 The rows are then raked over, the soil filling up each hole.
I bet there are a few planting rigs farmers have made to automate this process more, my friend likes it this way, and his garlic field is not huge.
Do you have some tips for planting garlic? or better ways to plant garlic? Let us know below: