These easy to make homemade pallet compost bins were made by GF fan Greg, a machinist by day, and weekend DIY guy. Pallets work great for compost.
I am a new listener/viewer and love your programs. I'm able to listen to the podcast at work, so have really been on a binge. Found your video "Composting 101" while preparing to build my Composting Center, here it is so far.
Homemade Compost Bins = Good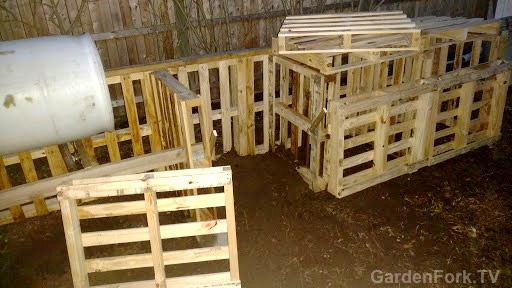 Note how Greg cut down the front door pallets to allow one to add new compost material to the bins. In other words, much smarter than my first go at building compost bins! See more of our pallet compost bin projects here.
First of all, I love this because Greg took the time to share this with me. Plus he allowed us to post the photos here on the site. A simple design, yet it works great, which works for me. Most of all, I love the barrel composer at the end. You can use this for finishing or doing intensive composting, rolling the barrel every day to aerate the mix.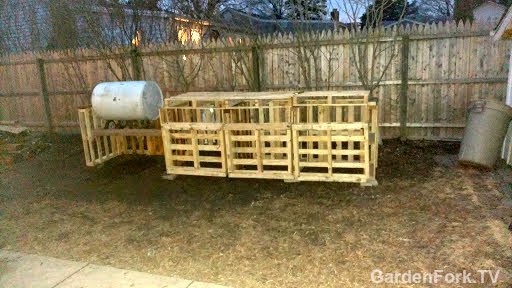 Probably one of the most popular pallet projects, homemade pallet compost bins are good one for most any DIY-er person. Note how Greg elevated the walls of the compost bin up off the ground. This can extend the life of the bins, and most of all, allow air to get into the bottom of the pile. One could also lay PVC drain pipe with vent holes drilled in them, and therefore, get even more air in the bottom of the pile.

Greg adds, "Thanks for including the dogs in so much of your content, Life truly is better with pets." Here are his two pups.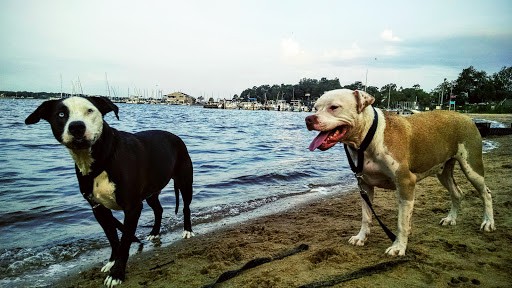 A big thanks to Greg, I say. Love the sharing that happens here, if you have a project like these homemade pallet compost bins, or most anything, please send me some photos!
Save
Save
Save
Save
Save