A winter beehive inspection can be either a good thing or a bad thing, here's a video I made about how I check a beehive in winter.

Winter Beehive Inspection Rules
Only do this if its warm enough. If its above 40F, its ok, but warmer is better.
Open and close the hive real fast. You don't want to chill the hive.
Don't pull any frames, peer down into the hive as best you can.
In winter, you can't do much for your bees. What you can do is make sure they have enough food. Of course, you have prepared the hive in the fall, by going through this Winter Beekeeping Prep list. Now about all you can do is open it up quick, and add some sugar if they need it.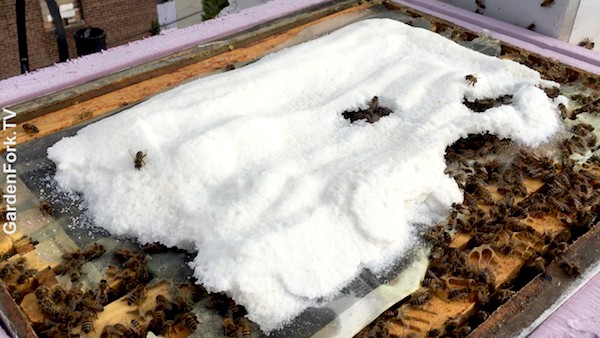 I use the dry sugar winter feed method, and it has worked well for me. So in the winter, I can just pop the cover and top off the layer of dry sugar if need be. If the bees are not looking good or if there are very few bees in the hive, there isn't much you can do in winter. The hive will probably die, as a result, be more prepared going into fall next year.
A winter beehive inspection can tell you if you need to order a package or nuc of bees. If the bees are alive, it can also give you a sense of accomplishment. Getting honeybees to survive winter is no small challenge, especially in norther climates.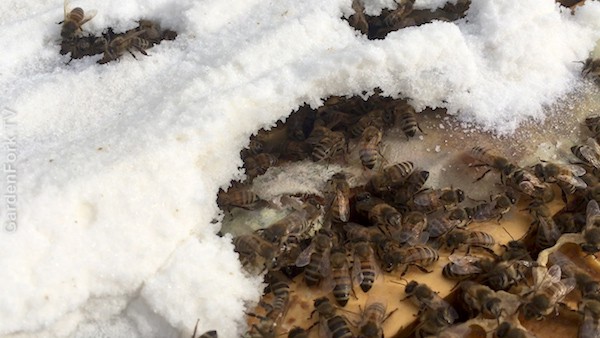 You can see in these photos how the bees have chewed through the newspaper and are now eating the dry sugar. Through the winter, the sugar has hardened as it absorbed moisture from the hive, this is a good thing.
So again, work fast, keep the hive open only as long as needed. Its not summer, its cold out, and the hive has to be kept warm.