Here is a home made pizza oven I ran across in a restaurant in Williamsburg, Brooklyn. Can't remember the name of the place, sorry.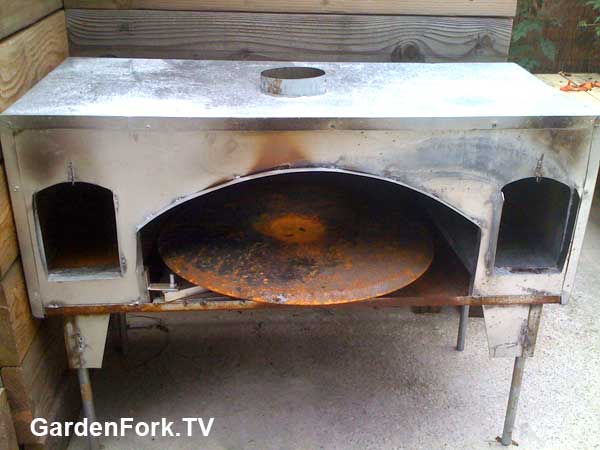 This one is interesting in that its a metal pizza oven, rather than the usual brick. I did not see it in operation, but I'm sure it works.
I do see some improvements that can be made to this home made pizza oven, and I wonder why they did some thing.
The two side openings are where one would put the firewood to fire the oven. They don't seem large enough to build a fire that would sustain itself and heat up the oven enough. I didn't see this rig in action, so it may work just fine, but I'm thinking not.

There is a curved metal arch over the pizza platter. I guess this is to channel the  heat up over the pizza, and transfer heat to the metal arch. I'd remove the arch. The heat from the two side fires will naturally move across the roof the oven and out the center flue.
The pizza platter is too big, I'm thinking. I don't often see fire baked pizzas that large. With a smaller platter, the whole pizza can fit in the oven, and you don't have to turn it.
But its an interesting idea, not sure who built it and how well it works in practice. I love that someone took the time to make it. Clearly some welding and metal skills here.