You just bought a wood stove, now you need a wood stove floor protector. Here's how to build your own wood stove floor pad and save money. A DIY friend of mine has fixed up a cabin up in the Catskills, and built this wood stove floor mat for his wood stove.
(Also see the neat outdoor shower they have, link at end of this post)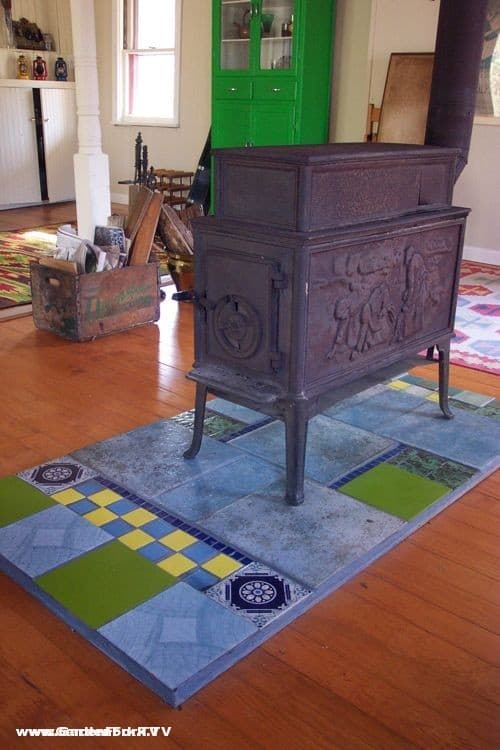 A wood stove floor protector does just what it says, it keeps the floor from getting damaged by the wood stove. Wood stoves put out a lot of heat, and a floor pad shields the floor from that heat, it also makes it easier to clean up ashes and coals. And, a DIY floor pad looks great, as it matches your home.
He collected tiles from a few tile stores, with a blue color scheme for the one pictured.
My friend built this out of a piece of tile backer board, a popular brand is Durock, but there are others. You have to use the heavyweight tile board, not the lightweight stuff. Below the tile backer board, he used a piece of plywood to add strength to the floor protector.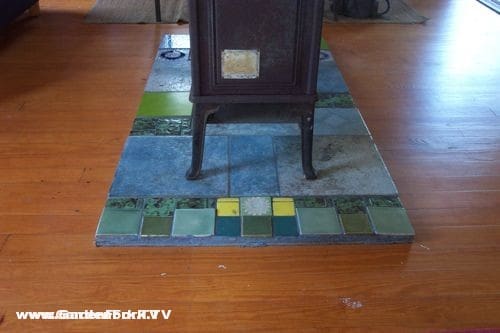 Standard tile installation practices were used to make the floor protector, choose the tile and color combination, build the plywood / tile backer base, apply the tile adhesive, lay the tile, grout the spaces between tiles. If you know of anyone looking for wood stove floor protector ideas, here you go.
Note: this floor protector is a DIY project. Use this information at your own risk. Check local building and fire codes in your area.
Check out the Outdoor Shower they have as well!