A PVC hoop house design by J.B. uses PVC pipe, plywood, & plastic to make a simple greenhouse. J.B. based this on our Hoop House Plan video, and made it taller for tall plants. Perfect for seed starting tomatoes or even corn.
Just wanted to drop you a line to say Thanks for your video's on the hoop house. [Here's a photo of] the hoop house I had built for our raised beds. I don't have the vent in yet as I'm still waiting for it to get delivered. I did modify the design a bit. I made mine a bit higher to try and grow some taller plants and I used wood at both ends and ran a 2x3 spine down the middle and attached the hoops to it with the same C clamps. We had some winds the other night with a couple gusts to near 50MPH and it stood like a rock. Cant wait to get planting under it.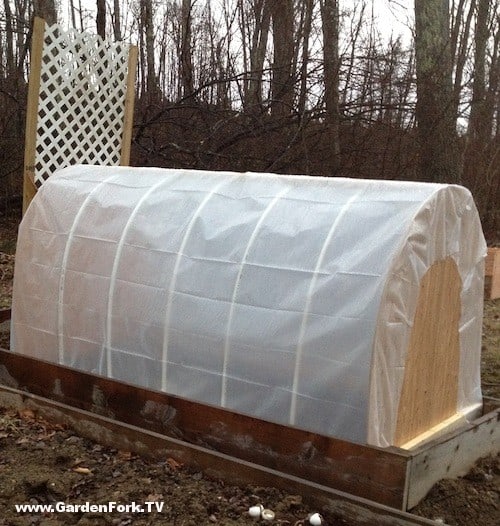 With this taller hoop house cold frame, it could blow over with high wind, but J.B. secured it with C clamps to the raised bed. You could also use spring clamps or tie it down with strong rope to some screw eyes on the raised beds.
I also like the trellis J.B. has built at the end of the raised bed using some leftover fence material.
I just put some kale and mustard transplants into our hoop house cold frame, i'm always amazed at how much warmer it is inside the hoop house cold frame vs. the outside temperature.
Below are some of our Simple Hoop House Cold Frame videos, Let us know your questions or thoughts in the comments below: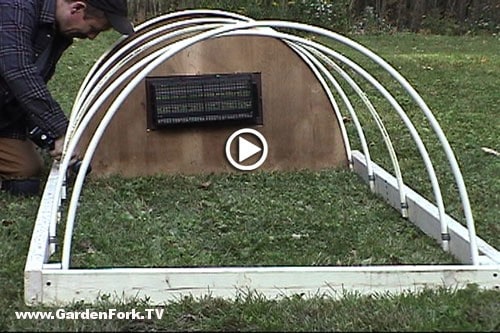 Click here to watch our How To Build a Hoop House Cold Frame Video