Learn you how to harvest garlic properly, and how to store your garlic. We showed you how to grow garlic in the first of our grow garlic videos - link below - and now its the middle of summer and time to harvest and store the garlic.
The question I get most often is when to plant your garlic, the second is when to harvest it. Garlic is usually harvested in middle to late summer, when the plants start to turn brown, but not completely brown. If you let the plant go completely brown, the bulbs will be falling apart and starting to rot. Pay attention to the scapes to see if they are pointing straight up, and then the plant will start to go brown. Pull a bulb or two and check the condition of the bulb.
Grow Garlic, Then Harvest It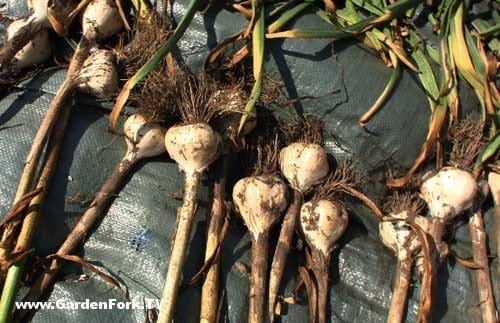 The bulb will still have a lot of moisture in it, and most people will air dry the bulbs before using them or selling them. I've even seen farmers who put the bulbs in large plastic trays, stack the trays, and then put a fan underneath the trays to push air through the stack and dry the garlic. Personally, I tie the garlic into bunches and hang it in the shed for a few weeks. Avoid putting the garlic in damp areas, which will invite mold to start, which is not a good thing.
If some of your garlic has brown spots on it, it is still ok to eat, most people just cut around the spotty areas and you are good to go. If you want to save garlic seed, set aside the largest cloves for the fall planting. The idea here is that the largest cloves will yield large bulbs. Check out Filaree Farm to order garlic.