An easy cherry tomato recipe for last minute dinner.
You're tired, and not sure what's in the fridge, and you need to make dinner: this is me all the time. I saw some cherry tomatoes on the counter and thought about our roast cherry tomato recipe video. So in go the cherry tomatoes under the broiler and the pasta on the stove top.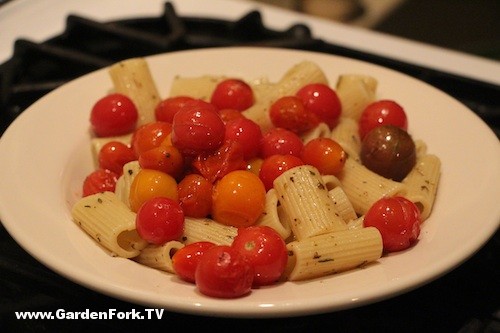 I debated in my head, should I put some Italian seasoning on cherry tomatoes before they go in the broiler? I figured the broiler would just burn the oregano and all, so I didn't.
I didn't time the tomatoes, I just waited for them to start popping. I didn't want them all popped and deflated, just starting to crack and the juices to be hot. So when that all started happening I pulled them out of the broiler. 2 servings of this fits nicely into a 8 x 8 pan, btw.
I like this kind of thing because it makes you look like a genius but is wicked simple. Olive oil certainly helps make you look like the genius you are... Olive and salt on the cherry tomatoes before they go in the broiler mix with the tomato juices in the broiler to make a nice sauce for the pasta. And of course some more simple magic, good cheese, makes this work too.
Don't cheap out on Romano or Parmesan cheese, OK? I bought some inexpensive parmesan at the store the other day, because that's the only thing they had , and it tasted like soap mixed with cream cheese. Not good.
Cherry tomatoes are pretty forgiving, they last a while on the countertop. The fresher ones pop more in the broiler, the off-season cherries have a tougher skin, but they still work for this just fine. Not sure why some stores put cherry tomatoes in a cooler, I think it affects their texture.
So this works for me, its easy to make and then you're done. What works for you? let us know below
Quick Cherry Tomato Pasta Recipe
Ingredients
•    1 pint Cherry Tomatoes
•    1 tablespoon Italian seasonings, oregano, marjoram, etc.
•    4 glugs Olive Oil
•    ½ lb pasta of you choice
•    1 chunk Parmesan or Pecorino Cheese
Cooking Directions
1. Start the pasta to cook. Be sure to add salt to the pasta water.
2. Turn on the broiler
3. Wash the cherry tomatoes and place in a 8 x 8 baking pan
4. Drizzle the olive oil over the cherry tomatoes and put under the broiler
5. When the tomatoes start to pop, pull them out of the broiler
6. Scatter the Italian seasonings over the tomatoes and mix the whole thing while still in the baking pan.
7. Portion the cooked pasta onto two plates and pour the tomatoes over the pasta.
8. Grate cheese over the pasta, salt and pepper to your taste.