Learn How to Make Applesauce as fall starts and apples ripen. We get apples from our local pick your own orchard or from our neighbors who have a very nice apple orchard. After you've made applesauce, you can can it, watch our hot water bath canning video.
How to make applesauce the GardenFork way
Making applesauce is not rocket science. It does take some attention, making sure you don't burn the bottom of the pan, but is easy to do. This is something you can do with your children, get them involved in cooking.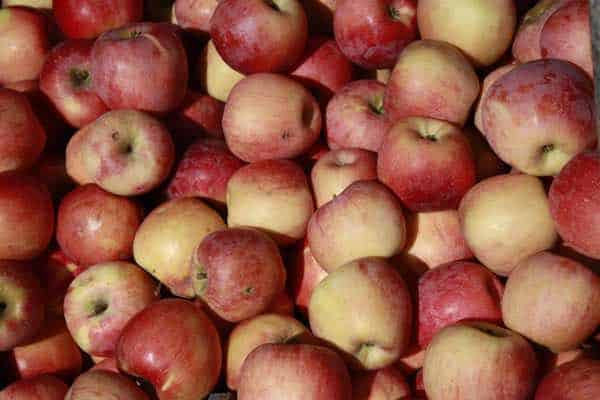 Your first choice is are you a skin on or off kind of person. I leave the skins on when cooking down apples to make applesauce. The skins add the red-pink color to the sauce and also thickens it a bit more. I think there's also a nutritional benefit to the fruit skins.
Next up is do you want to remove the seeds and core before or after cooking down the apples. You can core the apples before adding them into the pot, or just put whole apples in to the pot and deal with the cores later. You can also just quarter the apples and remove the seeds later.
If you are leaving the skins on, you'll need a food mill. These are great tools to have around anyway for other projects. You can use it to make tomato sauce and de-seed other fruit pulp.
Also important when making applesauce is a pot with a thick bottom so the sauce does not scorch, or you can use a heat diffuser. The key here is to cook down the apples, but not burn them, low and slow works well.
So there you go, some pointers on how to make applesauce, below is the recipe.
How to Make Applesauce Recipe : GardenFork.TV
Author:
Prep time:
Cook time:
Total time:
This recipe makes it easy to make your own applesauce.
Ingredients
3 lbs ripe apples
½ cup water
1 tablespon Cinnamon
Instructions
Core and cut the apples into quarters.
Add cored - cut apples and water to the pot, put pot on high heat.
When the water and apples start to sizzle, turn down the heat to low, cover, and let the apples cook down.
Add the cinnamon.
Mash the apples down occasionally, until the apples become sauce.
If you like a smoother sauce, cook the apples down longer, taking care not to burn the apples.