This DIY home-made tomato cage works and last for years. Learn how to make tomato cages by watching our DIY video on how to build tomato cages. The tomato cages sold in garden stores don't work for me. The cages are too short and flimsy, and don't hold up your tomato plants. stop buying the cheap tomato cages in the store and start making your own tomato cages here.
There are two main kinds of tomato plants: determinate and indeterminate.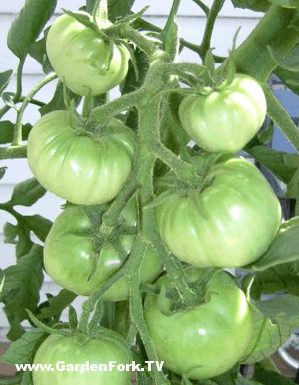 Determinate plants are compact.
Indeterminate tomato plants are wild and all over the place.
I think the two words can be applied to plants and people's personalities. Determinate people know where they are going in life, indeterminate people go all over the place. I think indeterminate plants produce more tomatoes, your opinion on that.
Tomato cages like these work for both kinds of tomatoes, but are especially good for indeterminate plants. The cages help contain their crazy nature of wanting to grow all over the place. The large squares of the kind of cage material use, concrete reinforcing wire, allow you to get your hands into the cage to harvest tomatoes. I've seen people build cages with other kinds of wire mesh, and you can't get your hands inside the tomato cage to grab the fruit.
We have a number of how to grow tomatoes and how to cook tomato videos on our site here. I especially like our cherry tomato recipes, one of them is a raw cherry tomato pasta dish that is brilliantly simple.
Roast Cherry Tomato Pasta Recipe Video
Fresh Cherry Tomato Pasta Recipe Video
Get Rid of Tomato Hornworms Video