Learning how to mud and tape drywall corners is like most things. The more you do it, the better you get. Here's a video showing how I do it. You can also see how we mud and tape drywall joints in a video here.
Steps to Mud and Tape Drywall Corners
Get the joint compound smooth like cake frosting.
Lay down a thin layer.
Apply wet tape.
Apply thin layer over tape.
Repeat.
That's about it. You will get better with the mud and tape drywall thing as you go along. Breathe and go slow. Put down lots of tarps. Play podcasts like GardenFork Radio!
Since making this video, I have started using a new corner tape that has a metal corner built into it. This makes things much easier. But use what you got, you know? The new corner tape has a hard metal corner in the center and paper edges, but it sits nice in the corner and can cover over badly done corners.
For outside corners, if the area will get a lot of traffic, go with the all metal corner bead. It can be beat up more. It takes longer to mud in, but its worth it. Having things bang into the corner can damage a wall, as you probably know.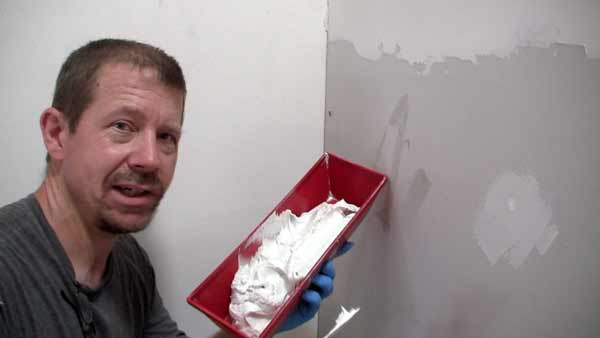 My other secret to mud and tape drywall corners is to not sand, but wet sponge the compound after it dries. Might seem counter-intuitive, but it works nicely, as you can reshape the compound. And it creates NO dust, which is the thing I hate about mud and tape projects.
Keep in mind you can always hit the re-do button on drywall projects. Joint compound is very forgiving. It is REAL important to keep the bucket of compound pristine. Always put back the thin plastic sheet to keep it moist, and the hard cover to keep debris out. If you get dust in the bucket, its bad. You will not be happy.