Can you show us how to prune a tree? Yes. For this post, we'll be pruning an apple tree in spring, but this method applies to most trees. Watch the video, then read on.
How To Prune A Tree - Some Tips:
Early spring or fall is the best time to prune.
Use bypass pruners for live wood, anvil pruners for dead wood.
Cut away branches that cross each other.
Less is not always better.
Buy a quality hand saw
There are a couple of types of pruners. I have a pair of hand pruners, the kind that look like pliers that cut limbs, and then I have the larger kind the require some upper body strength for larger limbs. Bypass pruners tend to make a cleaner cut on live wood. Anvil pruners have one blade that presses against a flat surface, these work best with dead limbs, as they can smash up live wood. But again, use what you got!
One of the big reasons for pruning is to remove branches that rub against each other, or are about to. Rubbing branches damages the bark and can invite disease. You've probably seen branches that have kinda fused together after years of touching, something you want to avoid. Remove branches that will start to rub as they grow before it happens.
Pruning less from a tree is not always better. For fruit trees, its important to have what's called an 'open habit', you want air to flow through the tree.
Tools To Use
I was recently given a 4 cycle gas trimmer from Troy-Bilt (a GardenFork sponsor) that has a chainsaw pruning pole attachment that is excellent for pruning a tree. I was able to use this to cut off a large limb that had snapped on one of our standard size apple trees. With the pole extension, this rig can reach 11' up, and it cuts fast. Be sure to keep oil in the chain bar reservoir and the chain sharp. You can see how The Impatient Gardener uses this powered pole pruner here.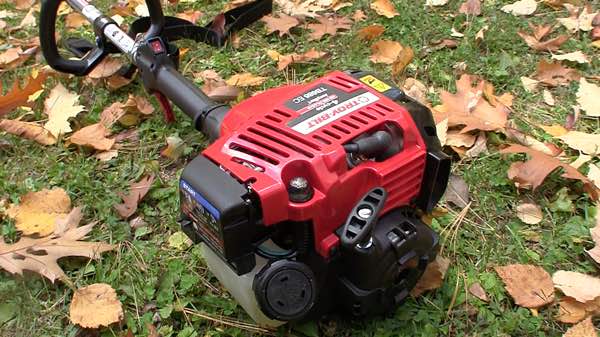 Get yourself a quality hand saw. I prefer the kind with teeth that cut on the pull and push. I think the blade is called a Japanese blade. Cheap knockoffs will only bind in the tree and mean more work. I used to buy cheap ones, then I got a nice one, and its great.
When showing people how to prune a tree, I use two kinds of hand pruners, bypass and anvil. I use the anvil pruners a lot on blueberries and raspberries.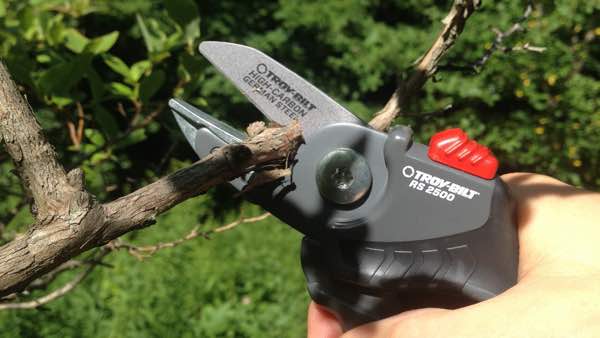 To start pruning, first cut away branches that cross, these will cause problems down the road, so visualize which limbs will get larger and cross. Its easier to cut them now, not later.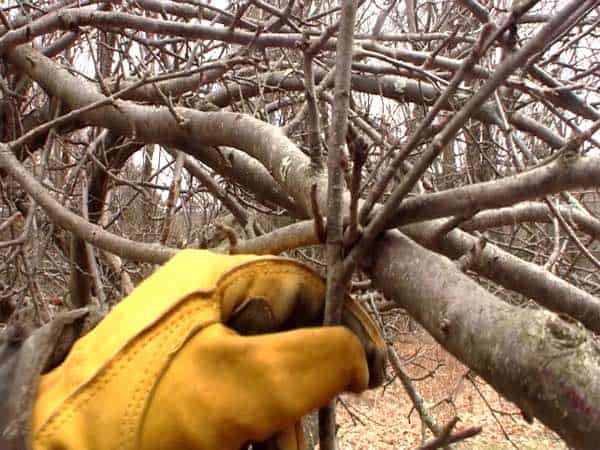 How much to prune? The common wisdom is you can prune out about 25% of a tree without harming it. I know that you can't actually measure 25% of a tree, but step back from time to time while you prune and see what effect you are having. Its OK to cut out large limbs like I did in the video above.
Seal the pruning cuts? No, you don't want to seal up the bare wood, the tree will form an internal chemical barrier to protect itself from any infection or invasion.
Here is a great example of the before and after of a nicely pruned fruit tree. I pruned this tree in Austin when the Troy-Bilt Saturday6 team got together and volunteered to restore a community garden. Note how you can see through the tree after pruning.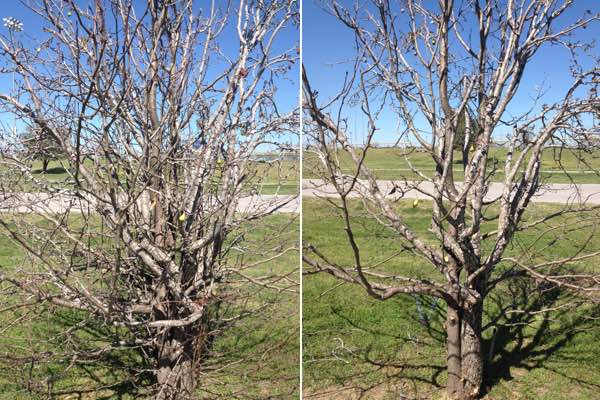 So this is my version of how to prune a tree, any thoughts or suggestions? Let me know below.
FYI: Troy-Bilt is a sponsor of GardenFork and provided me with these tools. Its part of how we pay the bills here. I won't feature products I don't think are of good quality.