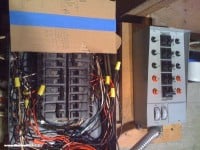 To safely use a generator to power your home, you can install a generator transfer switch. This can be done by a licensed professional or someone who has experience with breaker panels. We also have a generator transfer panel video and a post on how to pick a generator for home use.
NOTE: Be sure so follow local codes. We strongly suggest to hire an electrician. Use this information at your own risk.
Why You Should Install A Generator Transfer Switch
A manual generator transfer switch allows you to safely connect a generator to your circuit breaker panel. A transfer switch allow you to flip a few switches and manually disconnect your home breaker panel from the utility line power (the power coming into your house) and connect it to your generator. Hence the name, manual transfer switch.
If you don't use a transfer switch, the power from the generator can feed back into the power line that serves your house. This is called Back-feed, and is incredibly dangerous for many reasons. The biggest being you can electrocute a line worker who may be working to restore your electric power.
Here is how the Columbia River Utility explains it:
Standby generators make life easier during power outages, but if used improperly, they can be deadly. During an outage, electricity from your generator can backfeed the power lines, killing or seriously injuring our line crews who are working to repair the lines.

A transfer switch stops backfeeding, and also makes using your generator much more convenient, allowing appliances to be operated much like when the power is turned on.
A transfer switch also protects your generator when your local utility restores power, it keeps that local power from feeding back into your generator and damaging it.
Do not fashion an extension cord to plug the generator into one of your electrical outlets. A neighbor had a friend do this for him, only problem was the guy hooked up the generator side of the cord to the 220 volt output of the generator. They plugged in this very un-smart idea into one of their 120 volt outlets and burned out all the TVs, microwave, etc in the house.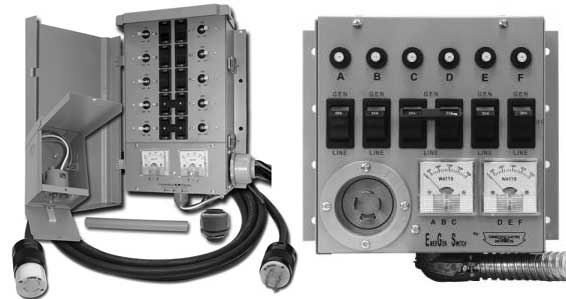 We installed a manual switch similar to these. Here is one of the better transfer switches you may want to purchase.
To Install A Generator Transfer Switch, Things to think about:
The first thing one must do is figure out how many watts and/or amps your home will require when running on generator power. Read our post on how to pick a generator here. When calculating this, figure out what essentials you need: furnace, well pump, lights, fridge, freezer. Your power needs determine how large a generator you need, and what size transfer panel you'll need. Also pay attention to how many 220 volt and 110 volt items you have, because some transfer panels only have one 220 volt circuit breaker.
A transfer switch swaps out line power for generator power on the circuit breaker level. When selecting what circuits to be connected to the transfer panel, you need to balance the generator load. There are two meters on the transfer panel, and you want the load on each side of the transfer panel to be relatively equal. An example is you should put the furnace on one side of the panel, and the fridge on the other side. The instructions that come with the panel will go into detail about this.
Why do you need to balance the power load? The fields in the generator - those coils of wire that generate the electricity - work best when the north and south coils have equal loads.
Think about where you plan to locate the generator outdoors. Your weather proof generator plug has to be nearby. This may mean running electric cable through the basement or garage. NEVER run a generator inside a garage or basement, you will die.
To install a generator transfer switch involves working inside your circuit breaker panel. If you don't feel comfortable doing this, don't.
Be sure to turn off the main circuit breaker before opening up the panel. Pay close attention to the directions that come with the transfer panel, many come with a video. Watch it, you'll learn. Again, if you don't know your way around a circuit breaker box, don't do this. Hire an electrician.
I think the hardest part of all this is getting the bx cable from the transfer panel to connect with the breaker box. This silver armored flex cable that contains all the transfer panel wires has to go through a hole in the breaker box. Most boxes have a number of holes pre-punched, but they can still be hard to punch out. I use a cold chisel, but there are real electrician tools to open up these holes.
This whole process requires some thought and planning. Before you go out and buy a generator, calculate how much power - amps - you need. Here is a post about how to calculate the power load and buy a generator for home use.
Again, I'm not the expert here, but wanted to share some of my experiences with generators and transfer panels. Please be careful, and hire a professional if the job requires it.
Here is a video we did talking about our generator transfer panel installation