I am in the midwest visiting my family, and its my nephew's birthday this weekend. Instead of the whole family going out for dinner, we decided to save everyone money and have dinner at my sister's house.
On short notice, my sister whipped up a simple lasagna using no boil noodles and a jar of good pasta sauce from the store. Good jar of pasta sauce might sound like an oxymoron, but there are some that work fine for what they are, OK?
My sister used Barilla no boil lasagna noodles, and there is a recipe on the back of the box. nice. Some ricotta cheese, an egg, and we have a tray of lasagna in the oven.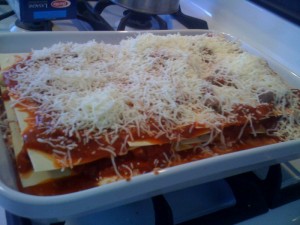 For a quick simple dish that feeds everyone, this works great. Some foodie types might roll their eyes at this dish, but I like it and my family does too.
Do you have a simple quick meal you put together on short notice? Tell us below.