Learn how to install a washing machine in this GardenFork how to video. Eric shows how to remove your old washer machine, and how to put in the new clothes washer. The washing machine used in this video is a front loading clothes washer, but the install process is the same for a top loading clothes washer.



The plumbing on a washing machine is pretty simple, you have the water supply lines and a drain line. The water supply lines are just like garden hose connections. I suggest you buy new water supply hoses with your new washing machine. Some new washers include the hoses in the box, check before buying new ones. Check the washer drain line to see if it needs to be replaced. If it is cracked or stiff, its time for a new one. Again, a new drain hose may be included in the washer box.
Two important things when installing a new washing machine:
• be sure to plug the washer into a GFCI outlet. That's the kind that is used in bathrooms and laundry rooms.
• make sure the washing machine is level. If its not level, it will vibrate across the room.
After hooking up the new water lines and drain line, plug in the washing machine and set it to do a rinse and spin cycle, not a complete wash. This will test if the machine is level, as the spin cycle is when the clothes drum is spinning the fastest. If the washing machine starts to vibrate, turn it off and check the levelness of the washer. Adjust the feet of the washer and then lock off the feet, each foot has a lock nut.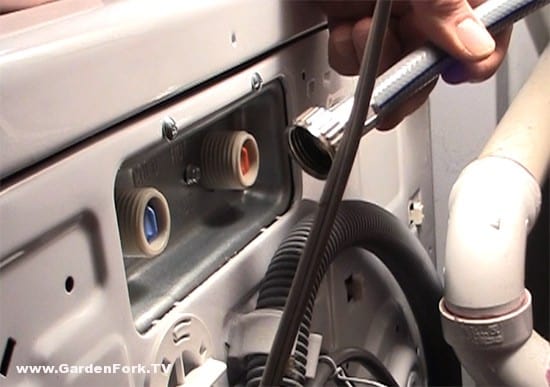 After using the washer, keep the door or lid open to allow the clothes drum to dry out. If you don't do this, mold can start to grow in the washer. Many new front loading machines have a lint filter, its important to clean this out.
I've also found out the hard way to remove all the coins from your pocket, the coins can get caught in the water pump.
Here is a how to video we did on replacing the water pump on a washing machine.
Have you put in a washing machine? let us know your thoughts and suggestions below: