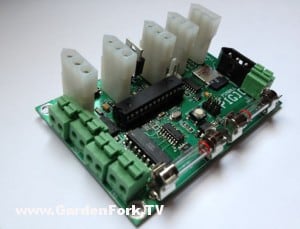 Mike and Eric talk bout Mike's electronics fabrication startup, DK Pinball, and his recent trip to the Midwest Gaming Classic with his PIG pinball interface device. Through this story we learn again that most of us learn by failure, and not to be afraid to try, to not come up with excuses for not doing stuff.
Kinda like the GardenFork mantra, Go Out And Do Stuff.
Because Mike asked, he was able to secure a prime spot at the Gaming Classic to show people his Pinball Interface Gagdet, which allows pinball machines to be modified to flash lights or LEDs, to control motors or servos, signal relays. The PIG makes modifying your pinball machine that much easier. Get more information about the PIG from DK Pinball here.
So remember, the worst they can say is no.
Mike talks about the importance of working for free, either to learn how to do stuff, or be able to trade labor or time in a shop. Mike worked for free at a shop and was then able to use their laser CNC machine, which is a computer controlled cutting machine. neat.
The talk then moves toward starting a small business, and your career in general. Eric speaks highly of Rich Gee, Executive Business Coach. So if you are looking for someone to help with your career with advice and an action plan, Rich is the guy.
Mike talks about the challenge of hiring your first employee, and what a hurdle that is. Its harder than one might think. Eric suggests using a payroll service, even though it may sound expensive, it will save time and  headaches for you, allowing you to focus on being in business, not pushing paper around.
we then move on to how you work in your workshop. Do we spend time cleaning our workshop or working in our workshop? Does stuff get stacked up in your workshop, what about de-cluttering your workshop? Mike tells us how to organize the workshop.
Eric talks about the number of cables one has just to connect all the devices one has on a desk, and Mike suggests Spiral Wraps to organize computer cables.
We then close with dog food thoughts and viewer mail.