This raised bed garden plan video is perfect for a school garden project, or for building raised beds on a concrete or asphalt playground. This kind of raised bed is also good for raised beds on top of contaminated soil. This self contained raised bed is a plywood box supported by concrete blocks, a plastic liner keeps moisture away from the wooden sides of the raised bed.

I saw this raised bed at a Whole Foods in St Louis, MO. I like the simple design of the raised bed, one can build it with a few tools and a saw. This kind of bed would be great for a school that wants to build a garden in a playground or parking lot. You don't have to dig up anything, just build these raised beds and drop in the soil. If you have soil contamination in your yard, yet you want a vegetable garden, this design will work for you. ( we have another video coming up about gardening in or on contaminated soil, join our email list to be alerted to that video post )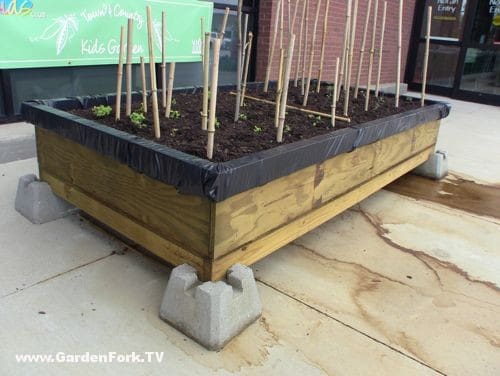 This design uses treated plywood for longevity, and the treated plywood is kept separate from the garden soil by a plastic liner. The raised bed is supported by concrete footers that are usually used to build decks. Holes are drilled through the liner and plywood for drainage.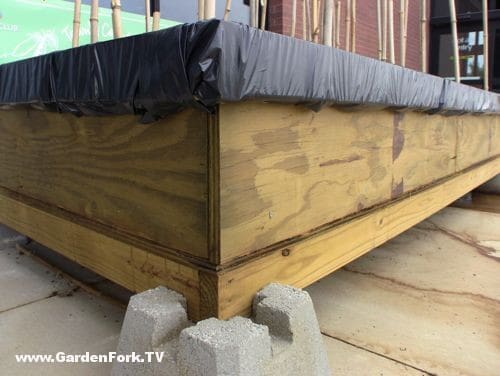 This kind of container gardening requires one to pay attention to the moisture level of the garden soil in the raised bed. This soil will dry out faster than the surrounding earth. I think a soaker hose drip irrigation system - drip irrigation video here - would work great for this bed.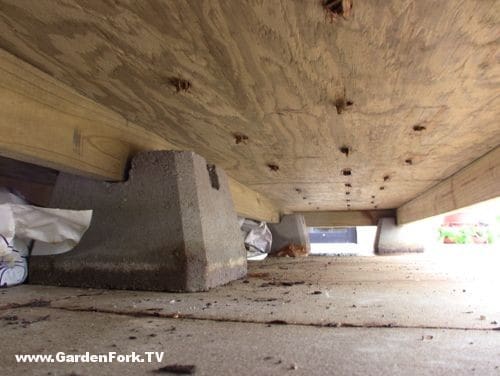 What kind of raised beds do you have? ? Questions, Comments? please let us know below: