A new kale pesto recipe, one that is simply and brilliant and why didn't I think of this earlier. Kale pesto. Easy to make and a new way to get more green superfoods into your diet. Here we go.

This kale pesto recipe is a classic GardenFork 'Use What You Got' kine of meal. The short version is take kale, make pesto, mix into pasta, dollop into soup, or spread on toast. This recipe makes a big batch which you can use for a pasta dinner, and then use the remaining pesto for lunch or enhance dinner the next night or two.
This kale pesto goes nicely mixed into our White Bean Soup recipe. The smooth flavor of the white beans gets spiked with this greens & cheese mix. Nice.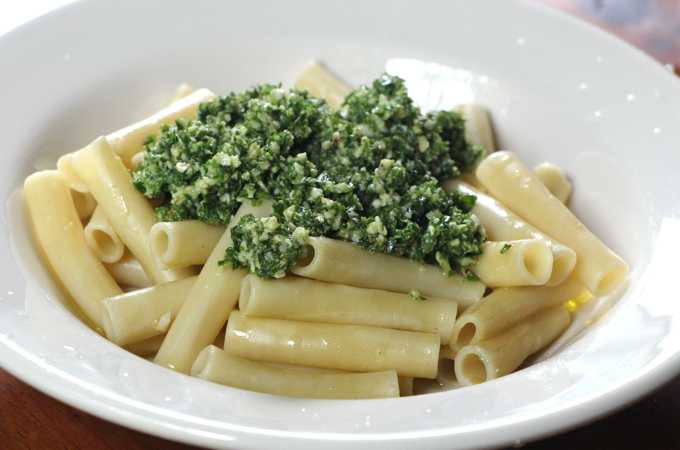 In this recipe video I show how we stem the kale. I don't use a knife, just stripping the stems off with your hands saves time. I think I learned this technique from watching Sarah Moulton do it on one of her cooking shows.
You can use whatever kale you have on hand or that is in your garden. I grow a classic green curly kale, and a red russian kale, which has a flat leaf. For this video, I added both into the food processor. Lacinato kale, aka dinosaur kale, also works. Wash off the kale before you start!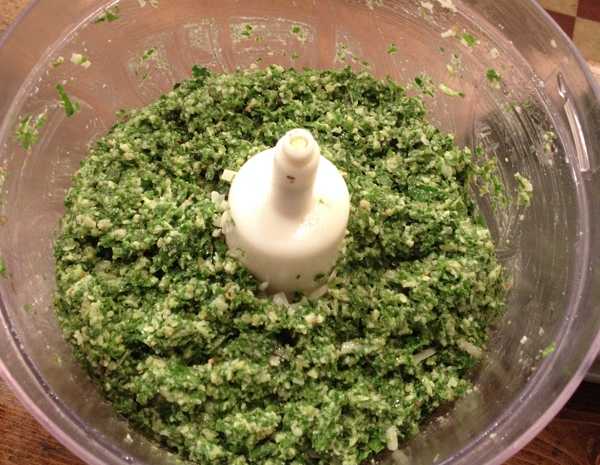 Key here is to use a good quality extra virgin olive oil. Buy the real thing. Cheap extra virgin probably isn't the real deal, in my opinion. I like to use Pecorino Romano cheese, which has a nice saltiness to it. You can also use Parmesan, but don't buy any pre-grated cheese, it tastes like stale cardboard.
Start out with one medium clove of garlic, the garlic flavor will grow if you store the pesto. I like to let the minced or pressed garlic sit out on cutting board for a while before adding it into the processor, I believe it mellows out the bite a bit.
If you are using this new kale recipe with pasta, drizzle some olive oil over the pasta and pesto just before serving. Make it all work that much better.
Thanks to Sarah Moulton for the kale stemming tip, you can check out one her cookbooks here:
Kale Pesto Recipe
Author:
Prep time:
Cook time:
Total time:
A kale recipe that is a no-brainer but one I had not thought of before. Easy to make and one more way to get your family to eat kale and like it.
Ingredients
1 good bunch of kale, Stems removed, Enough to fill your food processor.
1 cup extra virgin olive oil
1 cup walnuts
1 ½ cups of Pecorino Romano cheese
1 medium clove garlic
Instructions
Mince or press the garlic clove and let it sit while prepping the other ingredients.
If you have time, toast the walnuts in a pan on the stove, toss a few times. Pay attention so you don't burn them. You can also toast them in the oven
Wash and remove the stems from the kale. Dry the kale as best you can.
Put the kale leaves in the food processor and pour the oil over the leaves.
Process for about 15 seconds and then press the leaves down with a rubber spatula, process again to get the leaves roughly chopped.
Add to the processor the cheese, walnuts, and garlic
Process again, stopping to use the spatula to get everything mixed well.
I prefer a coarse chopped pesto, but process to the consistency you prefer.