This post may contain affiliate links, it helps us pay the bills, more info here.
Keep your house cool and saving energy how-to info on this GardenFork Radio show. Rick and Eric give a shout-out to Bruce Berg, aka CheeseHeadBruce on twitter . Then we talk about how to hang a pre-hung door, and the value of hiring a carpenter to hang doors, it may save you money in the long run.
Rick brings up solar chimney, and how heat convection and pull in cool air and let hot air out the top of a building. A neat way to keep your house cool without air conditioning.
Eric talks about painting his flat roof white, which helps keep your house cool. The house roof is currently silver, but white paint has a higher reflectivity and will reduce the heat transmission. This and the spray foam insulation applied to the ceiling joists will help.
Street trees also keep your house cool. Eric asks about how people use passive cooling techniques
We move onto to Eric's conversation with Dan Grey of MPGomatic and the good info on low rolling resistance tires. Rick agrees that the low rolling resistance tires makes a huge difference. He has them on his Prius and gets MPG in then 50 mpg range.
We also talk about ethanol, and have more questions than answers.
Rick says, "energy efficiency is the first best fuel we have" ; insulating your house - Eric just used spray foam insulation - can reduce the need for air conditioning
Rick talks about hot water heaters and how he uses a utility timer on his hot water heater, but cautions that one must be careful when using it.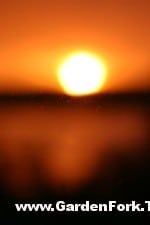 On that note, we talk about how eric has had to open up his walls for renovation and he has slid on pipe insulation onto the hot water pipes while working on his house. pipe insulation makes a huge difference in keeping the hot water hot as it travels to your bathroom or kitchen.
Rick uses red christmas tree bulbs to trick the birds in to pecking those bulbs and they then wont peck at the red tomatoes.
we move on to bees and wasps. if you see wasps nests and they are not bothering anyone, leave them be. wasps eat bugs in your garden, especially the wasps that parasitize the tomato hornworm.
worm composting is next ,and how to make compost tea, which is liquid gold . rick adds one cup of sugar to his compost tea, and the sugar helps increase the beneficial organisms in the compost tea. the tea needs to sit in the sun for a day. stir the tea or use an aquarium bubble to aerate the tea.
rick talks more about using evernote and twitter, and we read viewer mail.
photo by wallenberg from morguefile.com