On an episode of Gardenfork Radio, Eric and I asked for a recipe using sesame oil. Listener Jasmine came through and sent Eric a recipe for an interesting veggie "burger".
The "bun" is cooked sticky rice that is then formed into a patty and then fried. The filling is a carrot / burdock stir fry which Jasmine described:
"Kinpira gobo is a traditional vegetable side, however in this case I like to use it as my "burger" filling. If you can't find burdock root this works just as well with just the carrots or really any root vegetable."
I was looking forward to seeing Eric make it.
Ever see that scene where they ask a line of soldiers for a volunteer and everyone steps backward, leaving one guy standing there? Eric responded, "hey thanks for that and the recipe. mike will make this and report back!"
I have said that Eric does all the work and I get to have the fun, so I guess I need to pull my weight here and actually make something.
I was buying the ingredients, but I couldn't find burdock. I bought parsnip instead. (My camera operator said I should have gone with celery root and I think she's right) I loaded up on sesame oil, soy sauce, rice, and the other ingredients and then one ingredient stumped me. I sent a text to Eric from the store: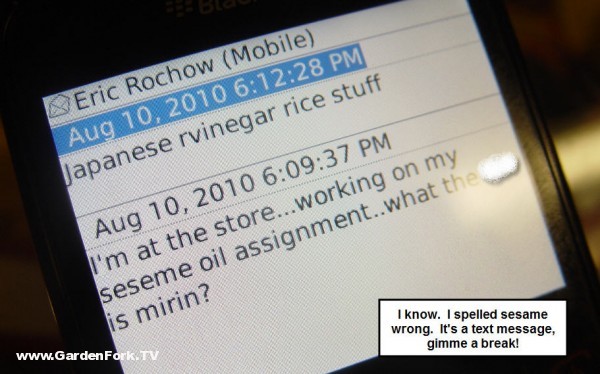 Here was my guide from Jasmine, but there was only one choice, Aji-Mirin.
"I suggest either hon mirin or mirin-fu chomiryo. Hon mirin is true mirin and contains alcohol while mirin-fu contains less than 1% alcohol. Either way I would steer clear of shio mirin as it is the same as hon mirin except with salt added."
Rice Burger Patties
1 ½ cups (per sandwich) Japanese-style medium grain rice or similar
½ Tbs. olive oil for frying/grilling
Cook an appropriate amount of rice for the number of servings desired. Take the rice and press it into ½ inch thick circles. I use plastic wrap to do this as the rice will otherwise stick to the skin. (It is important to use a medium grain rice as instant or long grain rices will not stick well on their own. You can still use these but it will require other ingredients to get them to stick.) Once your patties are shaped simply fry them in the oil or grill them on a well oiled surface.
I suggest using wax paper or kitchen parchment when you eat them so it doesn't stick to your hands.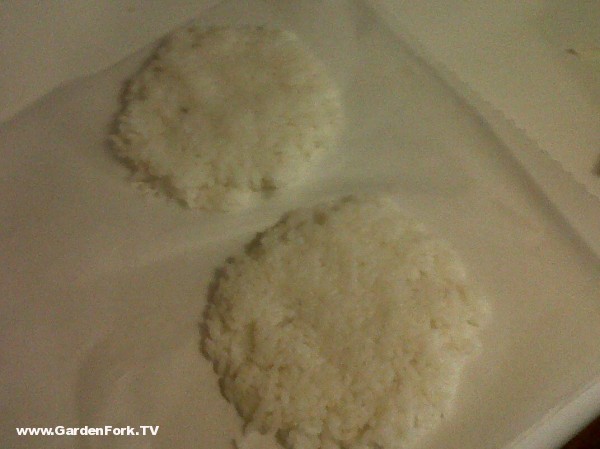 I used an ice cream scooper to dish out an appropriate amount of rice, and then I smashed it between layers of wax paper. It made reasonable circles.
Classic Kinpira Gobo
2 burdock roots, well scrubbed
2 small or 1 medium carrot, peeled
1 Tbs. sesame oil
1 tsp. dry red chili pepper flakes, or 2 small fresh red chili peppers finely chopped
1 Tbs. sugar
1 Tbs. mirin
2 to 3 Tbs. soy sauce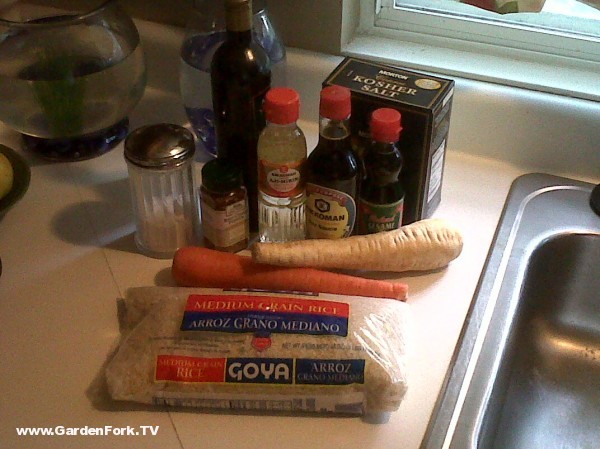 I wanted to buy Japanese rice, but unless I wanted 25 pounds of it, I had to settle for this brand. It worked fine.

Cut the burdock root into matchstick size pieces and soak in a bowl of water. Strain the burdock and refill the bowl with clean water to soak a few more minutes. Drain again then pat the burdock root dry. Cut the carrots into matchstick size as well. As long as you rinsed the outside of the carrots there is no need to soak them.
Heat up a wok with the sesame oil. Add the burdock root, carrot pieces, and any other vegetable you might like to add. Sauté briefly, tossing to coat the pieces with oil. Add the chili pepper flakes and toss. Add the sugar, mirin, and soy sauce and about ½ cup of water. Lower the heat to medium, and continue cooking and stirring until the moisture has disappeared from the pan. Taste a piece of burdock root: it should be crisp and tender. If it's too crunchy for you, add a bit more water and cook some more.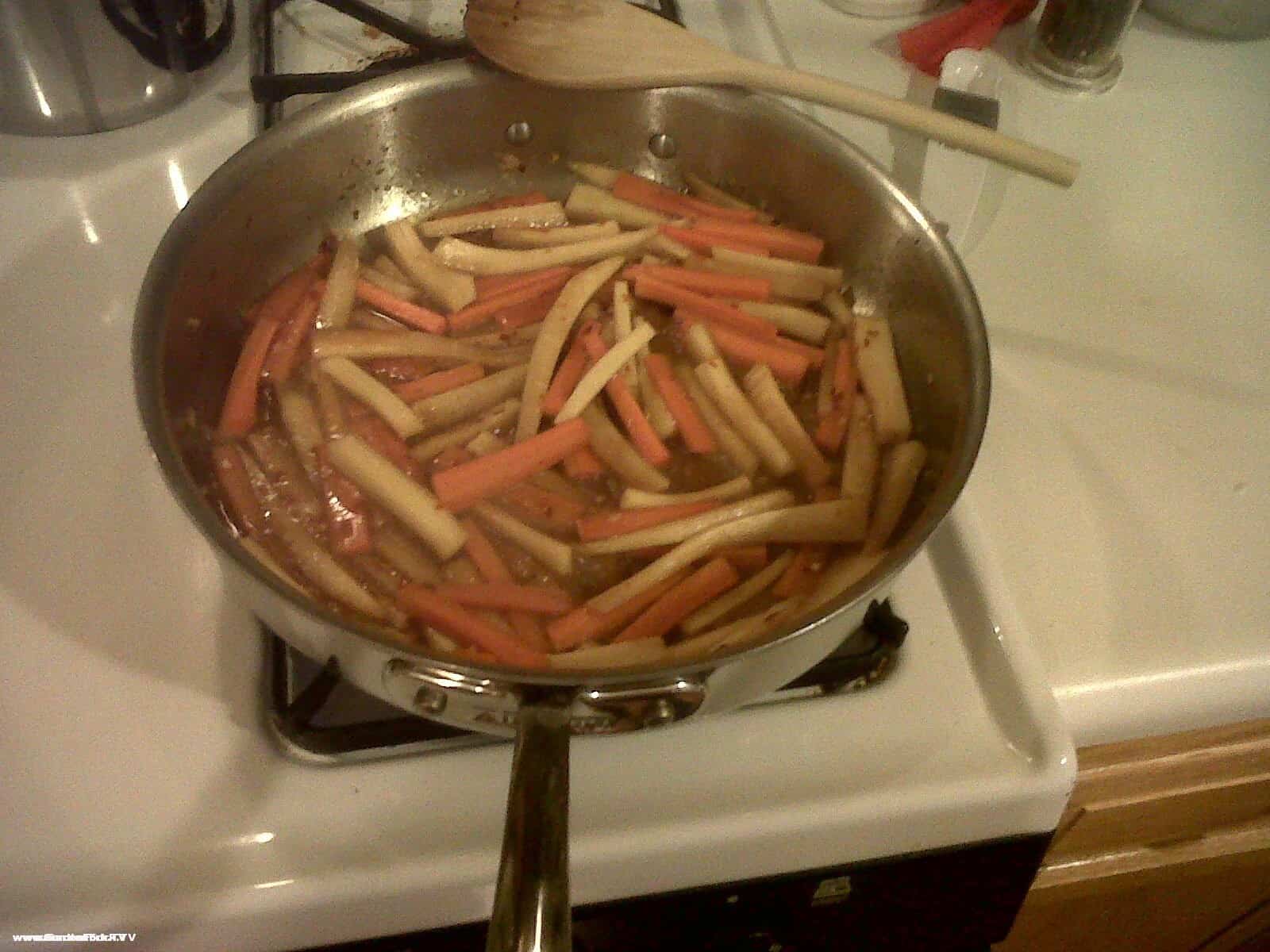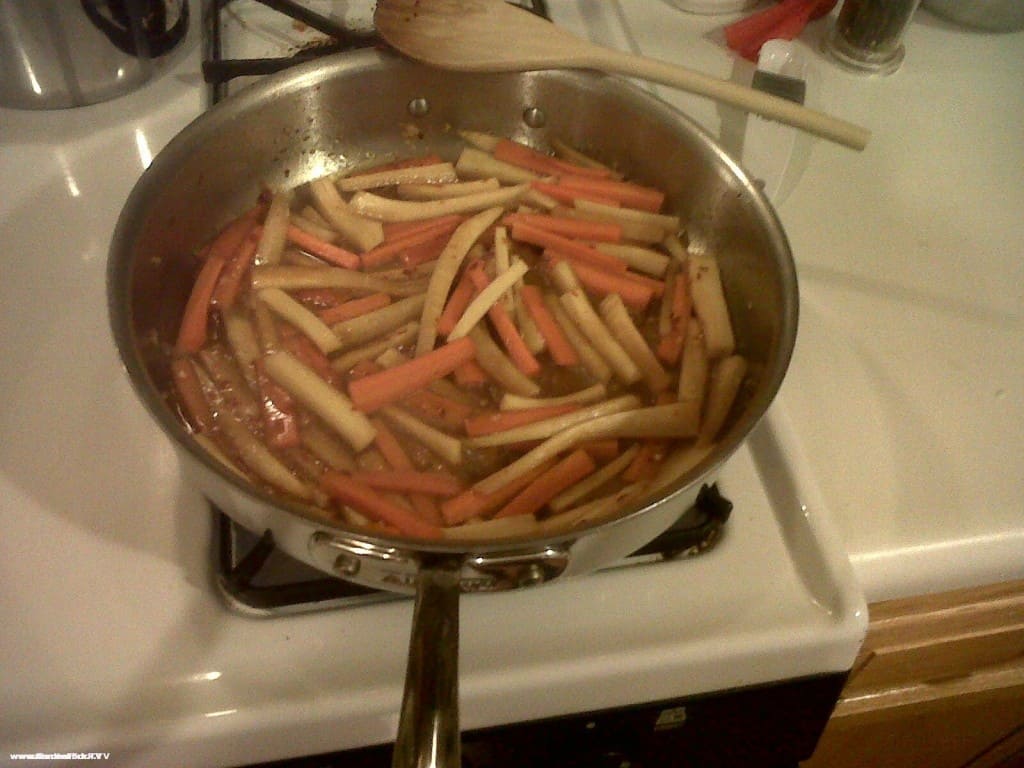 As it cooks down. I know, I wasn't patient enough to make match sticks. These are more like, uhm, giant match sticks.

Finished Product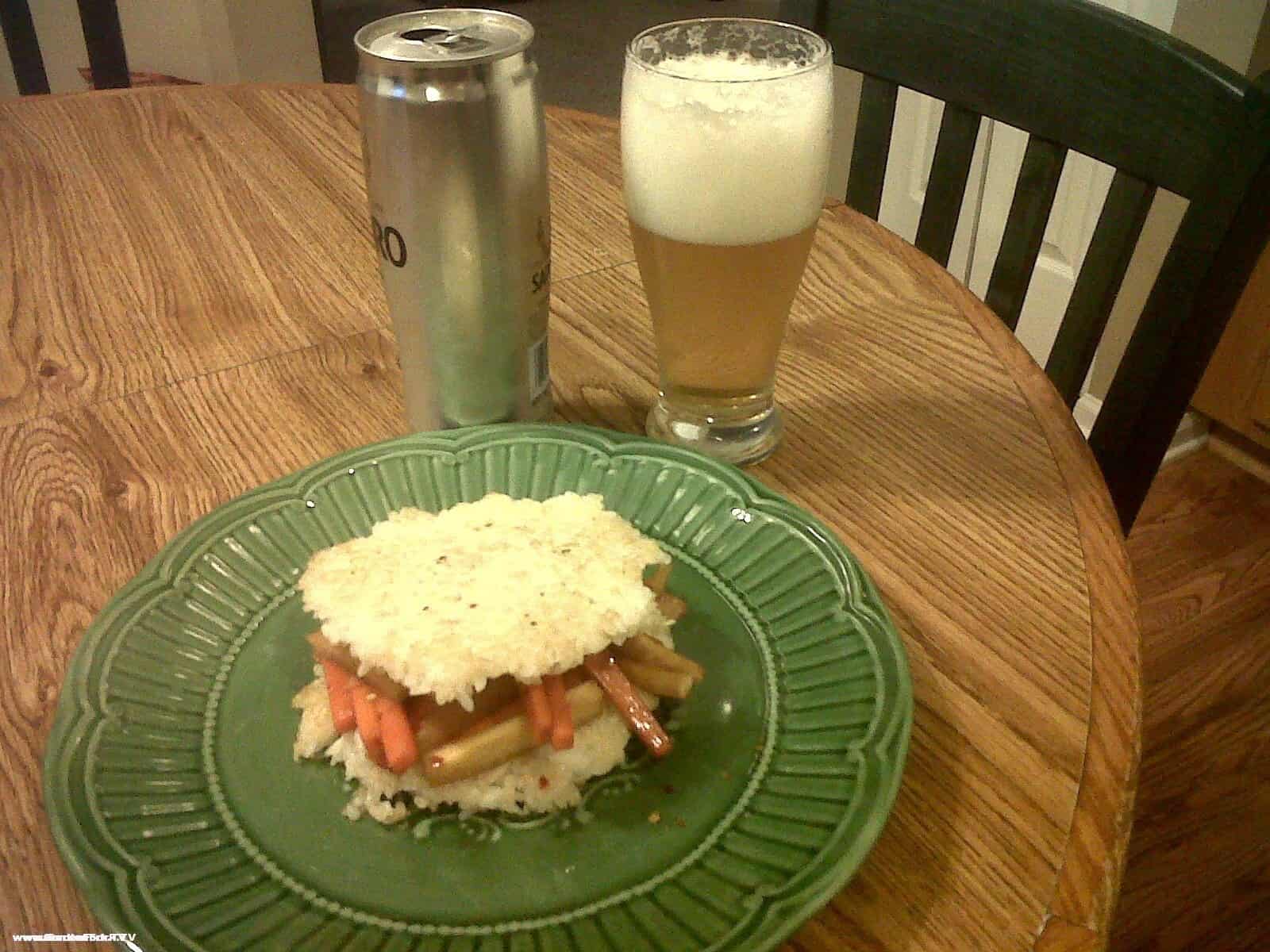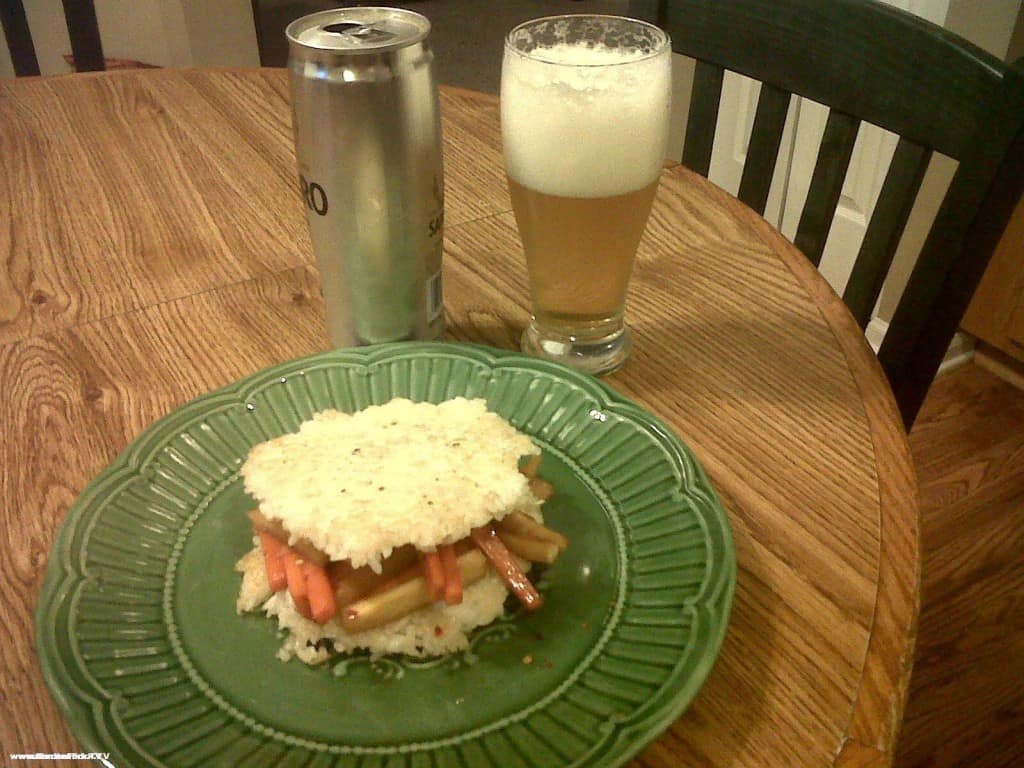 Here is the finished product. I picked up some Japanese beer to go with the "burger". It was a little messy, but it was fun to eat and it tasted very nice. Sweet, salty, spicy, with interesting textures. The sesame gave it a little smoke flavor too. It was worth the work and I can see this as somethign easy to whip up if you already have the ingredients around. Thanks Jasmine!