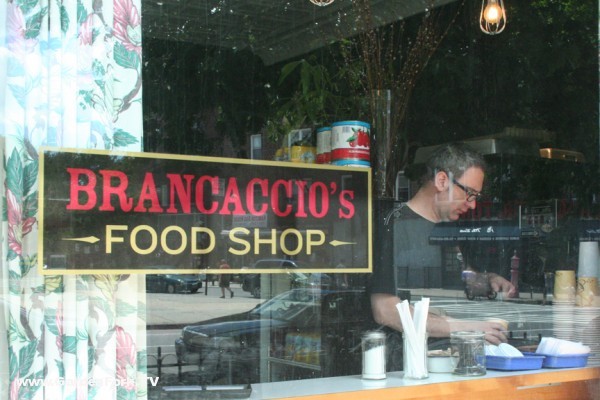 Last Thursday I tagged along with Eric on a food expedition in the Brooklyn neighborhood of Kennsington. Just a hop over to the Fort Hamilton Pkwy and there we were at Brancaccio's Food Shop in search of their meatball sandwich. Lunch time! As we walked in, Chef Joe was just putting today's specials into the tall fridge... as a rack of ribs came came out of the oven.
The shop is cozy and unassuming, no indoor seating but they do have two benches outside. The regulars shuffled past us as we looked at all the fresh salads in the case. One might ask "Really? Just for a meatball sandwich?" The correct answer would be "Yes, for that meatballs sandwich." Meet Chef Joe, he offered us samples from the daily menu while we waited — caponata, baked ziti with truffle oil, roasted Brussels sprouts, roasted beet and farro salad... all of it made that morning...
Now back to that sandwich, the portion is of a generous size, the bread is fresh with just enough marinara to moisten. But those meatballs! Moist and savory with pine nuts and raisins, seasoned with fennel and garlic. There's an old world flavor in every bite.
Eric saved half for later, mine vanished. I think I actually ate the wrapper. I was going to save the Broccoli Rabe for later, but it never made it into the fridge.
Chef Joe gave us to a little after meal treat: "Snack a Latte" coffee cakes. Chef Joe carries some food provisions. I bought some pasta, farro, and Italian Nutella. You have to check this sweet little shop out, Brancaccio'sFood Shop 3011 Ft. Hamilton Pkwy, Brooklyn NY, 11218.