I have never been to a Waffle House , until now. I love waffles, see our how to make waffles video here, and have even done waffle recipe home made baking powder experiments here. But I had never been to a Waffle House.
I love the name, and while on the road in the midwest, we needed breakfast, so I used my super-computer / smartphone to find one.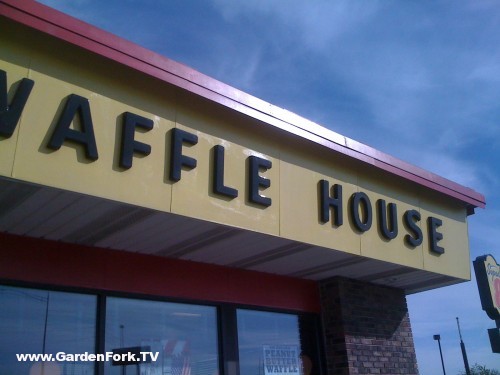 The waffles are not like those giant thick waffles that are ubiquitous at diners, the belgian style waffle; these waffles were thinner, which I like. The menu offers you an order of 1 or 2. I had one, but I saw lots of people have 2. They were good, but not wow. I wasn't expecting wow, though. This wasn't an artisanal local food waffle made from scratch, its a chain restaurant waffle.
What was really good were the eggs. So many times scrambled eggs, be they at a local diner or chain, are awful. Not sure how one can not cook scramble eggs badly, but many do.
Each egg order at the Waffle House are cooked individually in small cast iron pans with cheese. The eggs puff up nicely, I'm betting the cheese adds moisture to the eggs much like adding a small bit of milk to scrambled eggs does.
Scrambled Eggs with Cheese
Very nice people behind the couter, it takes a certain kind of patience to deal with the public, and these people had that. I think you should treat everyone equally, especially people in the food service world - they are, after all, touching the food you're going to eat. And I see people who treat food service people with what ranges from impoliteness to down right rudeness, which I have zero tolerance for. Karma is boomerang, you know.
Coffee was a bottomless cup, AND when we were leaving, we were offered a to-go cup of coffee for free. Interesting.
What is your best waffle experience? Is there a special waffle restaurant in your town? Do you make waffles at home, if so, what is the secret to good waffles? Please tell us below: