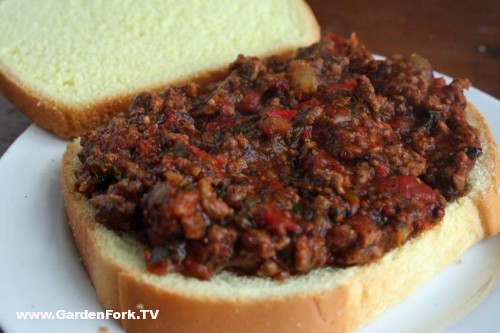 Ever wonder what to do with that drawer full of Ketchup and Plum sauce packets? The answer is  Sloppy Joe! I have such fond memories of the 70's and Sloppy Joe Night that I barely remember that we were in a recession. Sloppy Joe served on a TV tray while watching gun Smoke! This is one of my favorite cheap eats, and you probably have most of the ingredients already. This recipe feeds four.
You'll need:
a medium size skillet with lid
¾ pound ground beef
½ pound of diced canned tomatoes (6. oz.)
½ cup each, chopped: onion, bell pepper, parsley
12 packets of take-out ketchup (½ cup)
6 packets of take-out duck sauce (¼ cup)
2 tablespoon Worcestershire Sauce
1 tablespoon hickory BBQ sauce (1 packet)
3 tablespoon olive oil
1 teaspoon salt
liquid smoke (optional)
Use these dried spices or an equal amount of a good dried BBQ seasoning.
½ teaspoon each: cumin, oregano, thyme, black pepper
1 tablespoon dried basil
1 teaspoon powdered garlic
Step 1: Add 1 tablespoon of oil to a hot skillet and brown ground beef, drain and discard excess liquid. Remove from the pan and set aside.
Step2: Add 2 tablespoon of oil to the skillet and add onion, bell pepper, and parsley and cover. Cook until bell peppers are soft. Lower heat to medium and add browned ground beef, dried spices, and salt. Cook for five minutes. Now add all the wet ingredients: ketchup, plum sauce, canned tomatoes, liquid smoke... etc. or a pack or dried BBQ seasonings. Cover and cook for 15 more minutes, stirring once or twice. It's ready when the liquid has thickened. Serve it up on toasted bread topped with a crumbled layer of crushed potato chips... be sure to have it with a hot bowl of tomato soup.