Can a portable generator run whole house AC? I learned the answer in short order the other day. I had just installed a generator interlock switch (video here) on my sister's electric panel, and showed her how to hook up a portable generator to the house.
The power went out during a recent storm during a heat wave, and out came the portable generator, ready to hook up to the house electric panel. Soon we would have the whole house air conditioning up and running.
The proper hook up steps were followed. All breakers turned off, main breaker turned off. Interlock switch engaged. Generator cable connected from it to the weatherproof outlet. Fire up generator.
But will a portable generator run whole house AC?
The generator started up right away on the second pull. The generator used to never start easily, but thanks to the new carburetor we installed, and an excellent generator tune up it fires up nicely.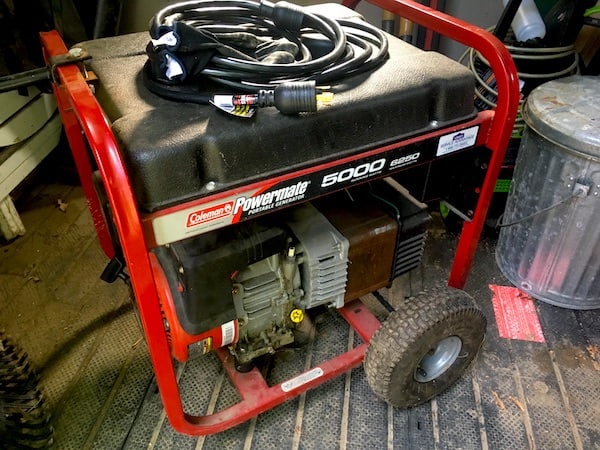 We then switched on the 240 volt AC breaker in house electric panel. The air conditioner started to fire up. Then a clicking noise started coming from the outdoor unit. We shut off the breaker, waited a few minutes, and tried again.
And it did the clicking thing again. The AC tried to start, but never got up to full speed. After this second try, we didn't try again. We set up some fans in the house and called the air conditioner repair guys.
Portable generators are a great thing to have, they can run most of a house when the power goes out. I call them portable because they are on wheels, they aren't those giant metal boxes that sit on a cement slab connected to a propane tank next to the garage.
I've talked about how to size a generator for your needs in this video. Figure out how many watts/amps you want to power in a house when the power lines go down, buy a generator that matches that number.
Problem here was I didn't do this with this install. We already had a generator that came with the house, and it seemed sufficient to take care of our needs.
The air conditioner repair guy came out quickly. I was happy and surprised, figuring they would be busy during a heat wave. He showed me the mistake we made in sizing a generator to run a whole house air conditioner.
I hadn't looked at the label on the side of the AC that noted the unit needed 23 amps to start up.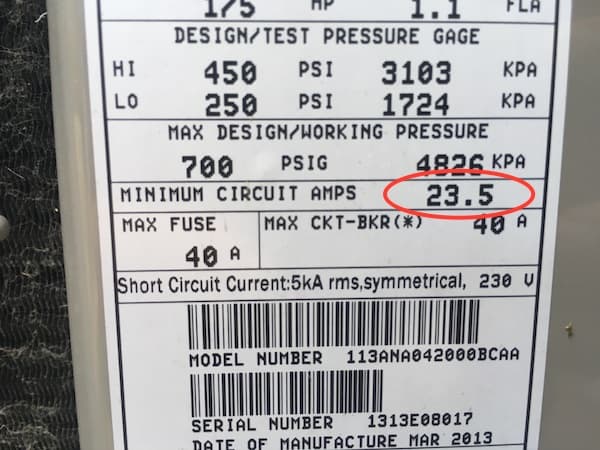 That's a lot of power. All at once.
And our little 5000 watt portable generator was not going to supply that.
Even a larger portable gen unit was not going to supply that amount of amps. One would need one of the stand alone units, with the propane tank and all, to fire that AC up.
Our work around for this was to realize we did not need to cool the whole house during a power outage during the summer. We could buy one or two bedroom size window AC units to have on standby, and stay in a few of the rooms in the lower part of the house during an outage.
The portable generator we have will run a couple of small window ACs.
Learn More:
How to install a generator interlock switch
Generator Transfer Switch, How It Works