A generator interlock kit is a simple and safe way to hook up a generator to your house. I just learned about this kit, and wish I had installed it in my house. I installed a generator transfer switch in my house, now I wished I did this instead. Watch the video I made below and read through for more information.
Steps To Install A Generator Interlock Kit
First of all, I strongly suggest you hire an electrician for this project. I am showing you the steps because I myself was curious how the generator interlock worked. Sticking your hands into an electric service panel is not for the non-professional, OK?
Basically, an interlock provides a way to feed power from your generator into your electric service panel without backfeeding generator power back down the utility line. Backfeeding is bad, it means sending electricity from your generator into the electric grid, aka, the utility wires that connect to your house to the local power company. Backfeeding can kill a lineworker.
The interlock provides power to your home in a simple way. A 220 volt circuit breaker, matched to the amperage of your generator, is installed at the top of the stack of breakers that feed power to the various rooms and appliances in your house. This 220 breaker is connected, with the proper gauge wire, to a weatherproof outlet outside your home. (NOT in your basement)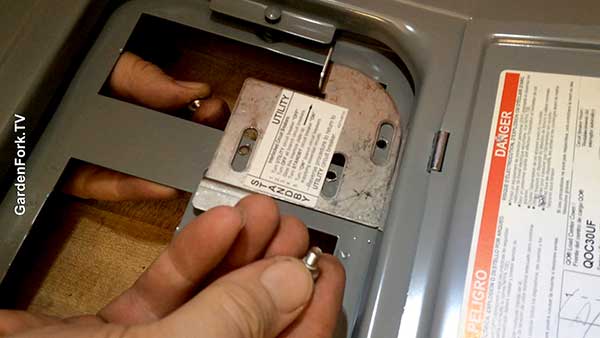 The interlock kit is a metal slide, that is fabricated for the model of circuit panel you own. Interlocks are not avail for all electric panels, you will need a generator transfer panel if one is not made for your panel.
This mechanical slide does one simple thing. It keeps anyone from turning on the main power breaker (power from the utility lines) when the generator circuit breaker is turned on, and vice versa. Utility power is feeding the circuit panel, the slide is pushed down, generator feeding the panel, the slide is up. The interlock prevents both the utility power and the generator power breakers from being 'ON' at the same time.
Couple of Things I Learned About Generator Interlock Installation
Site your weatherproof outlet where you can easily get to it, and have the generator near by.
Make sure the outdoor outlet is mounted into studs or brick, you will be yanking on it to plug and unplug the power cord
Interlocks are not available for all circuit panels.
Here is a list of items you will need for the installation, your electrician may need additional materials, talk to them before purchasing anything. This is sized for a 20 amp 220 volt generator plug & outlet, the L14-20.
Generator Interlock Kit (this is the one for our panel, yours may be different)
20 amp Two Pole Circuit Breaker (for our brand of circuit panel)
Generator Power Cord (20 amp with L14-20 plugs)
Outdoor Outlet For Generator (20 amp)
Let me know thoughts and questions, I'll do my best to answer, thx!