Here are a couple of pressure cooker reviews if you're thinking of buying a pressure cooker, and a good cookbook to go along with it.
Electric Pressure Cookers
I have become a convert to the electric pressure cooker, notably the Instant Pot. You can buy the Instant Pot model I use here. (affiliate link) Watch the video and then read on about some of the reasons  I like it.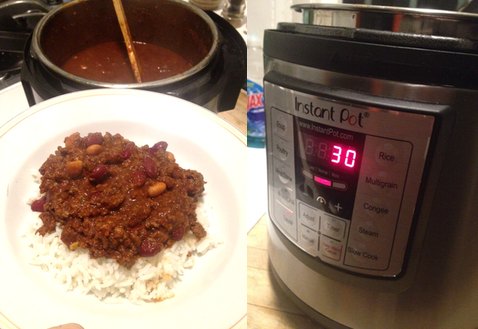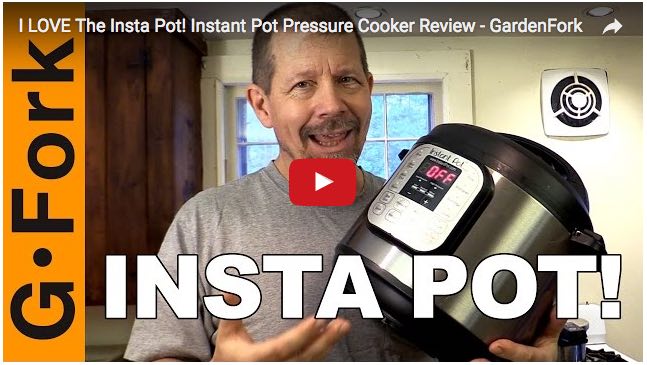 Instant Pot Pressure Cooker Review:
Turn it on and walk away, no monitoring cooktop burner flame.
Built in keep warm setting.
Smart technology monitors internal temperature.
Easy to close lid.
It makes yogurt!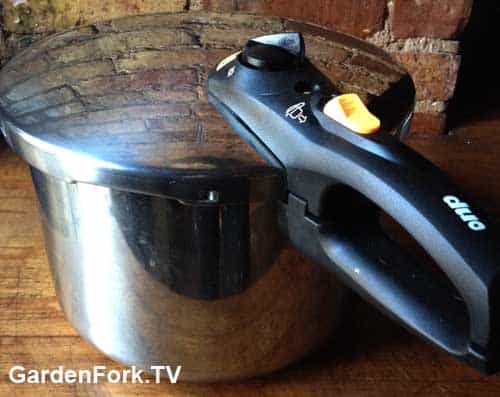 Stove Top Pressure Cookers: I own two of these. I recently bought a Fagor pressure cooker which was highly recommended as a Best Buy by the people at America's Test Kitchen. I found the Fagor to be easy to use and pretty straightforward. Here is a link to buy the Fagor Pressure Cooker. (affiliate link) I suggest buying the 10 quart.
The Fagor has a nice thick bottom and the lid is fairly easy to attach. You'll find pressure cookers can be a little clunky fitting the lid on because it has a gasket. But this one drops on pretty quickly and it has a couple of guide marks to help you with that.
As far as price it lands about in the middle of what a pressure cooker costs. Don't buy a cheap pressure cooker, it's just not worth it, it's going to not work well and you're going to be unhappy and then you're not going to like pressure cookers. You get what you pay for with most things in life and that's true with pressure cookers as well.
I also own a Magafesa pressure cooker, it is the first one I bought about 10 years ago. It got a good rating from Cook's Illustrated back then. Now it does not make the recommended list on Cook's. It works, but I find if the relief valve gets any food debris in it, it can take some time to clean it up.
Do not buy a pressure cooker with what has a jiggle top, this is an old technology, go with the current models. Also don't buy a used one at a garage sale, you don't know if it works properly. Take your money and go buy new one.
Listen to me talk about Pressure Cooker tips on GardenFork Radio here. We also have some pressure cooker videos for you here.
What to look for in a pressure cooker
I use a 6 quart cooker, but I would opt for a larger cooker (8 or 10 quart) if you have the cash and kids. This allows you to make a bigger meal that can be lunch or dinner the next day too. Putting the lid on a cooker can take some practice, none of them are like butter, but the one you buy should go on easily. Make sure the bottom of the cooker has a thick base, much like regular pots, a thin base burns food.
I imagine there are a ton of pressure cooker reviews online, this is my take on it. Please let me know yours in the comments
When I bought my Fagor pressure cooker I also picked up a book, Pressure Cooker Perfection, which is from the people at America's Test Kitchen.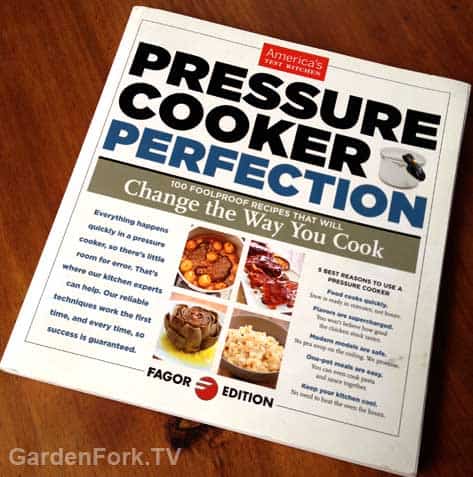 It has a lot of good information in the front of the book. I mean it's what you expect when you get something from the Cook's Illustrated - America's Test Kitchen people. It's researched to death - lot of good information and the recipes are good as well. I think the recipes are good for those of us who follow directions and then you can jump off from these pressure cooker recipes and make your own dishes. The Bolognese is kind a good one to start with, I skipped the Mortadella called for in the recipe.
The authors of Pressure Cooker Perfection cookbook haven't really broken any new ground but they do list out here some nice recipes they have good pictures it shows you step-by-step and that typical America's Test Kitchen way they do things. I like them for that I applaud them for that.
I also like Lorna Sass's Cooking Under Pressure cookbooks, they have good recipes and charts for cooking times.
Let me know what you guys think in the notes below what kind of pressure cooker do you own.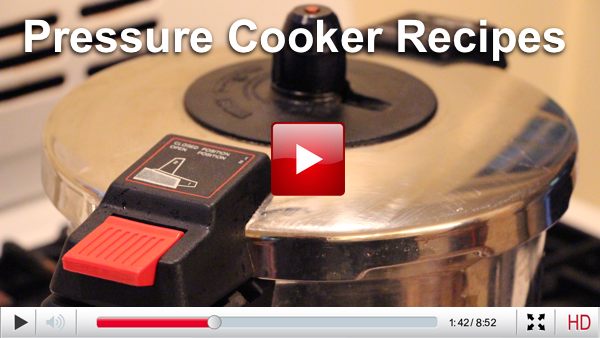 Watch all our pressure cooker recipe videos here.