Build these DIY rolling garage shelves and make your basement or garage more organized and save some bucks. Shelving units with wheels are expensive, here's how I added caster wheels to my existing garage shelving units.

You can build the DIY rolling garage shelves either as a light-duty or heavy duty version. Light duty would be for a shelving unit that doesn't have a lot of heavy material on it. Light stuff might be beach towels, blankets, pillows, things like that. A duty shelf would be one that has tools, screws, nails, that sort of thing on the shelves.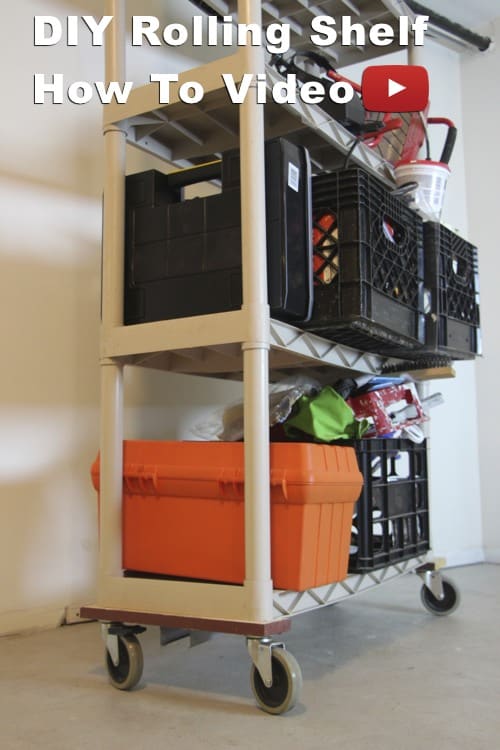 You can build this with scrap lumber that you have laying around. One special tool that you will need is called a hole saw. If you don't have a hole saw kit you might be able to borrow one from a neighbor or you can buy a hole saw kit here online. Don't buy the cheapest hole saw kit, it will break.
I used 1 ¼" and 1 ⅝" drywall screws to pu this together, it depends on if you are using 2x4s or something thinner. Its good to have a box of both on hand anyway. For the lumber, you can use cast off studs from a renovation, spare pieces of plywood, metal studs (for the lightweight version). This is really a use what you got kind of project.
I got the caster wheels for this project from an IKEA desk that I had taken apart, but you can find these wheels at the hardware store or at tool supply stores. I have also taken wheels off of furniture that has been put out for the trash. You can also buy wheels online here.
Adding wheels to your shelving units does increase the height of the shelving unit. So if you have low ceilings in your basement, keep that in mind. Your new DIY Rolling Garage Shelves might hit the ceiling now if you have tall stuff on the top shelf.
Assembly of the DIY rolling garage shelves: