Can you use pressure treated wood for raised beds? Watch our video to find out if pressure treated wood is safe for gardening.

This question gets asked many times each season, and I thought I should see what new research has been done, and what the current thinking is.
Part of the issue here is that for years treated wood was infused with arsenic, which is bad stuff. In the last decade, two types of new treated woods have arrived in stores, and arsenic treated wood is no longer sold in the U.S. I don't know if it is available anywhere else.
So, Can You Use Pressure Treated Wood For Raised Beds?
The new pressure treated wood contains an insect repellent and a mold inhibitor. From Wikipedia:
Alkaline Copper Quaternary (also known as ACQ) is a water based wood preservative method recently introduced in countries where there is a demand for alternatives to Chromated copper arsenate (CCA).[1] The treatment is made up of copper, a bactericide and fungicide which makes the wood resistant to biological attack, and a quaternary ammonium compound (quat) which acts as biocide, increasing the tolerance of treated timber to copper-resistant bacteria and fungi, and also acting as an insecticide.
In other words, it has chemicals to repel insects and fungus, the two main culprits in rotting wood.
Copper is the main ingredient in treated wood. If you've ever wondered why it has a green tint, its because of the oxidized copper. And we already use copper in our gardens to fight fungus in spray-on products we buy at the garden store.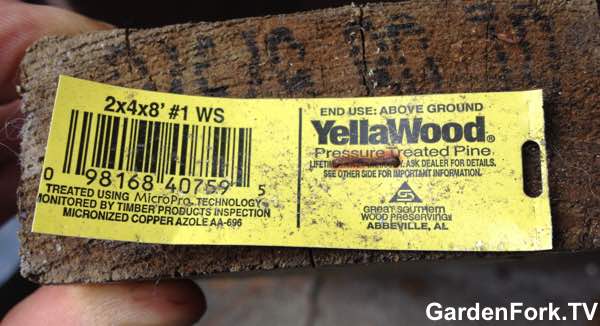 Plus, we are exposed to copper in our home water pipes, many of which are made of copper. I read that one will ingest more copper from their household water than they will from copper from treated lumber.
From The University of Missouri Div Of Plant Sciences:
A 2007 study of the safety of ACQ published in Human and Ecological Risk Assessment concluded that exposure to copper from contact with ACQ-treated wood is not expected to have adverse effects on the health of adults or children.

So there you go. Considering how many airborne chemicals rains down on our gardens from the air, and we haven't perished from that yet, it looks like its OK to use pressure treated wood for raised garden beds.
If you are still not convinced, you can line the inside of your raised garden beds with plastic as barrier between the treated wood and the garden soil.
Thoughts or questions? Let us know below.