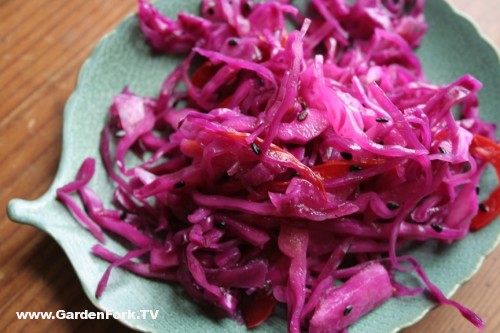 Can you believe how intense this color of purple is? I love coleslaw, especially when it's made with sweet red cabbage, jicama, and Granny Smith apples. Jicama is a tropical tuber originally from South America that has made it's way into Asian cuisine. The cream white flesh has the crisp texture of a pear. It has a slightly sweet flavor that complements red cabbage well. It's usually eaten as one would a radish. Making a small batch is almost impossible, so I usually make it for picnics or parties. It goes well with pork and lamb dishes, or just as a small salad before the main course. Red Cabbage Slaw has to macerate overnight, so plan ahead.
You'll need:
a large non-reactive bowl with a lid
a food processor, a mandolin, or a large sharp knife
1 medium size red cabbage, enough for 4 ⅕*4 to 5 shredded cups
½ red onion, sliced thin
½ red bell pepper, sliced thin
2 Granny Smith apples, diced
1 cup jicama sliced into matchsticks
1 tablespoon sea salt
1 tablespoon black or toasted sesame seeds
Dressing:
1 cup cider vinegar
½ cup olive oil or mayonnaise
4 tablespoon brown sugar
1 tablespoon seedless raspberry preserve
¼ cup dried currants, or golden raisins
Remove the outer layer of leaves and slice red cabbage into quarters. Remove and discard the white core and the base, and shred the cabbage. If you don't have a food processor or a mandolin, use a sharp knife and cut it as fine as you can. Peel, core, and dice two apples into ½" cubes. Slice onion and red pepper into fine strips. Peel and cut jicama into matchstick strips. Place the cabbage, red pepper, onion, jicama, and black sesame seeds into a large bowl. Sprinkle with salt and mix well. Let it sit for 10 minute or until the cabbage starts to release some liquid.
In a small bowl add brown sugar, raspberry preserve, and dried currant into the cider vinegar and olive oil. Mix until the sugar is dissolved and the raspberry preserve is evenly distributed.
Pour the dressing into the bowl and mix everything again with your hands, break up any clumps. Cover and place in the fridge over night. Before serving, drain and toss again, adjust salt if needed. Red Cabbage Slaw keeps well in the fridge for abut a week as long as it's kept covered.