This post may contain affiliate links, it helps us pay the bills, more info here.
I found a badly rusted cast iron pan, and wanted to show you all how remove rust from cast iron in this video. Rusty cast iron can be brought back from the dead, to clean the rust off the cast iron, it takes some elbow grease, and the pan will never be brand new, but old cast iron is great. [Note, I have posted some updated info below the video, thx!]
Update: Use vinegar at full strength. If this method does not work, watch our video on how to strip cast iron using oven cleaner, or with a simple battery charger tank method. Plus it will be a great cast iron pot with a good story of where you found it. Let us know your tips for seasoning cast iron below the video.
You can remove rust from cast iron, but it can take some time. Take it easy and it will work well. Check out our other cast iron videos, how to season and clean cast iron, and learn more about cast iron pots and fry pans, and all the great reasons to use them.
We are  now using Flax Oil to season our cast iron, the result is a much harder finish than just using vegetable oil or shortening. so save the vegetable oil for the deep fryer. Watch our Best Way To Season Cast Iron video.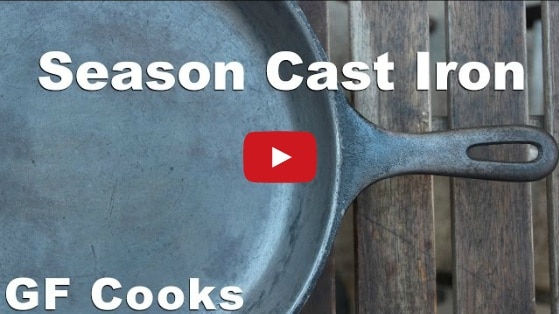 You can watch us use a cast iron dutch oven doing some campfire outdoor cooking in these two videos, the first is us making a banana bread recipe in a cast iron dutch oven over charcoal, then we made the classic Toad in a Hole cooked outdoors in a cast iron dutch oven as well.


Soap On Cast Iron? Video               Remove Old Seasoning From Cast Iron Video