With GardenFork's audience, I'm sure that I'm preaching to the choir on this, but I still felt compelled to say what I want to say and share the video.
In the video is Waverly, a 9 month old Weimaraner pup. With two Weimaraners already in our home, our cup runneth over long before she showed up. We do love the breed and we love our dogs. Friends of ours know this and when others have Weims, we tend to hear about them.
This particular pup was bought by an elderly couple who thought Weims were beautiful and friendly, which they are. However, they didn't know how much energy they have and what dangers the breed bring along with them. 
Weims are super friendly and VERY attached to their family. However, Weims don't understand that running up to their 110 pound owner, or 40 pound child to give them a "full body greeting" is, at best, traumatic for the receiver.
Also, these dogs are smart. To a fault. If you don't exercise them, challenge them, and give them something to do, they'll find stuff to do on their own -- Like dismantling a couch, one thread at a time. 
 If you decide to cruelly lock them up in order to keep them "good", you'll find that a locking up a Weimaraner is like winding the spring on a toy; when you let them go, all of that energy is going to be released at once. And the longer they're in there, the tighter that spring gets!
Really, this isn't meant to be a lesson in Weimaraners. It's meant to be a lesson in preparing for getting a dog properly. Also, if you know about dogs, making sure your friends who are thinking of getting a dog know everything they need to know.
Before we got our first Weimaraner, we read every guide on the breed we could find. They are all over the internet and in book stores. We spoke to others with the breed and we visited as many Weimaraners as we could find.
I knew very well that if I fell asleep on the couch, I would wake up with two 70 pound dogs sleeping on or under me.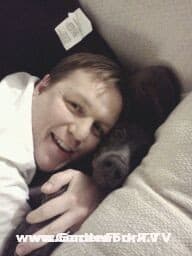 I also knew the costs. A spay, shots, licenses, food, toys, crates, and everything else. We made sure we could afford the dog(s).
It's easy to sympathize when someone can't keep a dog because of an illness, injury, or worse. It's infuriating when I feel compelled to take on a third dog because someone didn't do some simple homework. We were told that  "It's either you take her, or she ends up in a shelter or just released in a field. PLEASE... Take her." How do we NOT take her?
Sure the people were heartbroken and ashamed, but is that enough? I don't have the answer to that question, but I do hope this is the last dog we need to rescue. She's only here temporarily, but in my house, fostering a Weimaraner "temporarily" is like "temporarily" touching one finger to the other when there is super glue on them.
My son has been wanting a third dog, I've been saying "No", but I may be powerless against the cosmic powers behind the prayers and wishes of a 14 year old boy who loves his dogs. 
Watching her sleep peacfully with the other two dogs, it's easy to imagine that some angel brought her to us...
... actually, watching the video again, it may be repayment for something bad I've done. I'm not sure yet.