Fast and Simple Chocolate Cake Recipe, a perfect last minute dessert or for when you want chocolate cake and want it fast! Mix this cake in the pan, put it in the oven for 30 minutes, and you're done. Nice.
This cake recipe is also called screwball cake, or crazy cake. Its a great cake recipe for kids, its not complicated, and its fun to make. You can't really mess up this cake, except for I almost messed up this chocolate cake while making this video...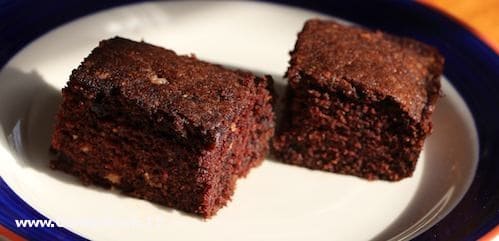 This was was the first cake I ever made, I remember a neighbor gave us this recipe, and I liked how you could make it all in the cake pan, no extra bowls, etc. The other neat thing is it uses vinegar and baking soda as a rising agent. Not something you see too often in chocolate cake recipes.
Things to keep in mind when making Chocolate Cake
Make sure your sugar doesn't have lumps in it
Mix the dry ingredients together well. Use a whisk if you like, or a fork.
You don't have to grease the pan. Not sure why, but it works.
Don't overbake the cake, you want it moist.
This cake recipe is pretty flexible, I've made  it a bunch of ways, and you can ramp up or down the amount of oil or sugar. Add more water if you take out some of the oil. My oven bakes this at 30 minutes, if you have a convection oven, or one that isn't from a camper trailer, test the cake at 25 minutes, it might be done already.
You can frost this cake, but I'm not big on frosting, I find most frostings too sweet and gets kinda crunchy after a day. At 1 cup of sugar in the cake, that's enough sweet for me.
Does your family have a Screwball Cake Recipe? let us know in the comments below:
Simple Chocolate Cake Recipe - GardenFork.TV
Ingredients
•    1 ½ cups all purpose flour
•    1 cup sugar
•    ½ teaspoon salt
•    3 tablespoons cocoa
•    1 teaspoon baking soda
•    ¾ cup veg oil
•    ¾ cup water
•    1 tablespoon vinegar
•    1 teaspoon vanilla
Cooking Directions
1. Heat Oven to 350F
2. Put all the dry ingredients in an 8 x 8 or 9 x 9 pan.
3. Mix together well, using a whisk or fork if you like
4. Make a well or hole in the middle of the dry ingredients
5. Add the wet ingredients in to the well.
6. Mix the wet into the dry until it looks like chocolate cake batter
7. Bake on the middle rack of the oven. Check at 25 minutes, you want it moist, not dry.
8. In our oven, this bakes in 30 minutes, a convection oven may be faster.