This post may contain affiliate links, it helps us pay the bills, more info here.
Learn how to make maple syrup with this simple maple syrup evaporator. I'll show you how to tap and collect sap from your sugar maples and then boil down the sap. This setup uses propane and 2 outdoor propane stoves.
We have used several methods to make maple syrup, watch all our maple syrup videos here and we have built a DIY maple syrup evaporator out of a file cabinet.
What's great about this simple maple syrup evaporator rig is you can walk away from it. You don't have to watch it constantly. I have mine outside the kitchen, and every 15 min or so I go out and check it.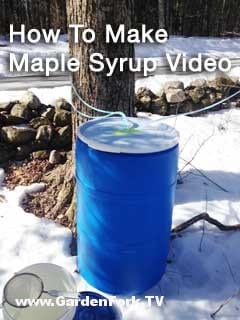 I found a used large stainless steel pot that was probably used to boil clams, and I found a large shallow stainless steel bowl at the dollar store. The idea behind this DIY maple syrup evaporator is the cold sugar maple sap is brought up to a boil in the first large pot, and then it is ladled into the shallow finishing pan to be boiled down into maple syrup.
Sugar Maple Sap becomes maple syrup when the sap reaches 7.5 degrees F above the local boiling point. Boil a small pan of water on  your stove and when it boils, measure the temperature with your digital thermometer. Add 7.5 degrees to that temp - at our house the boil happens at 210F - and when the sap reaches that temperature, it is now syrup. Quickly turn off the heat on the finishing pan burner, and strain the syrup in to jars. If you are up to it, you can let the sap boil to a slightly higher temperature for a slightly darker syrup - be careful not to burn the finishing pan.
Parts You Need For The Simple Maple Syrup Evaporator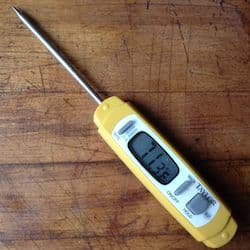 I strongly suggest buying a digital kitchen thermometer, old style candy thermometers are hard to use with this setup.
If you see your finishing pan foaming big time, you probably have syrup, and probably the temperature is above the ideal, turn off the propane and pour off the syrup.
The drawback of this system is that it uses quite a bit of propane, not the best use of what you've got. The plan is to build a wood fired evaporator next year. I have a ton of white pine from the trees we dropped that would fire a sugar shack nicely.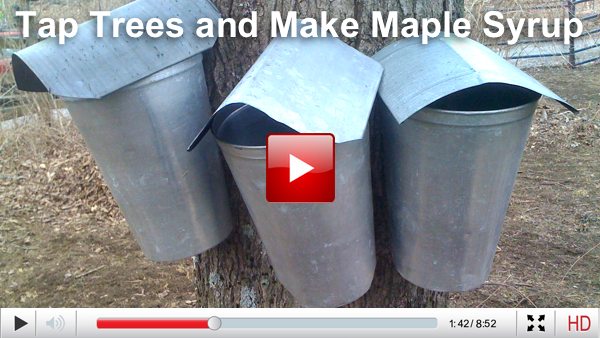 Watch all our Maple Syrup How To Videos here.
Here is a great PDF from the Univ of Maine on how to tap trees and boil sap
Questions? Comments? let us know below: