This post may contain affiliate links, it helps us pay the bills, more info here.
Our first year of making maple syrup! Learn how to make maple syrup with this cheap evaporator, using a propane turkey deep fryer rig.
We have used several methods to make maple syrup, watch all our maple syrup videos here and we have built a DIY maple syrup evaporator out of a file cabinet.
A turkey deep fryer is a good way to start making maple syrup. It will take quite a while to boil down the sap. Here is what we used:
Maple sap becomes Maple Syrup at 7.5 degrees F above the local boiling point. Go boil a pan of water on your stove, use your digital thermometer to measure the temp at boiling. I bet it wont be 212F, but probably lower. Add 7.5 to that boiling point for the temperature you want to attain.
When its Syrup, the sap starts to foam up, so you have to keep an eye on the process.
Be very careful. Hot sap burns bad, plus there is open flame. Use common sense, keep kids and dogs out of the way.
The wider the pot you use, the more sap you can boil off faster. Its all about surface area. This is why evaporators are wide and shallow.
Take the pot off the propane burner as soon as you reach temp. Its OK if the temp goes a bit higher, but not much higher. I find it best to finish the boil on the stove in the kitchen. Take it inside when you are within a few degrees of syrup at your elevation.
Strain through cloth, cheesecloth, whatever you like. You will have some cloudiness in the syrup if you use cheesecloth.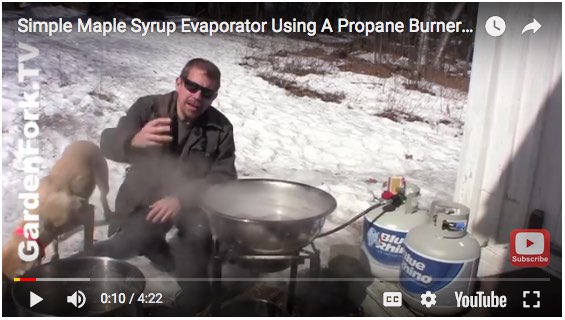 This video shows how we improved version of making maple syrup with a propane burner
Let us know any questions or comments below! Go out and do stuff!