Learn more about this and other fun stuff at our viewer forum, The Greenhouse. Comments have been turned off here, but you can post your thoughts, pictures and videos at The Greenhouse.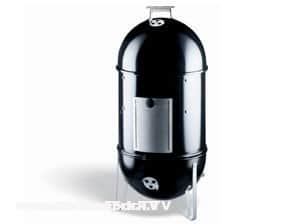 Will Weber send gardenfork a smoker?
still no response from Weber Grill about asking them to supply me with one of their neat Smokey Mountain Cooker Smokers for the show.
After the Smoked Salmon debacle, I really want to smoke food the correct way, and their Smokey Mountain Cooker receives high praise on the web, so I sent their marketing dept. an email about gardenfork.tv and its thousands of devoted viewers. I asked if they would consider sending me one of these smokers, but have not heard back from them.
How about a grass roots write-in campaign? You can contact them at marketing@weberstephen.com . Ask them to send one of these great smokers to us so we can show everyone how great a smoker it is. Lets show them how Web 2.0 and the power of social media can foster Weber Grill brand loyalty.
Back to the Burnt Salmon. A reader sent me this email about what I'm doing wrong ( how unusual... )
I use a smoker very similar to the one you used. I think smaller chunks of moist apple wood would be better so that you can avoid putting them on the heating elements. I shorted out mine doing that and had to get a replacement heating element and found out in the instructions about this fact. I use a flavored brine: the recipe follows and typically don't need to smoke more that a couple of hours in my "tube smoker". I then use a vacuum packer to store each piece in the refrigerator. Often I cut the salmon into 2 to 3 " steaks. They make great gifts for neighbors.
Brine recipe:
1-2# fish
1 quart H2O
½ cup maple syrup
¼ cup salt
1 tablespoon black pepper
1 tablespoon garlic powder
1 tps nutmeg/
1 tps cinnamon
½ tablespoon meat tenderizer

Recommend several hours of brine in the refrigerator. Prior to smoking, air dry for at least 1 hour.