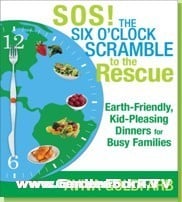 I love cookbooks. It's the first section of the library that I hit. Then gardening and home repair. Finally sparkly vampires and romantic comedies. I got a copy of The Six O'Clock Scramble: Quick, Healthy, and Delicious Dinner Recipes for Busy Families

to review and as much as I love a big, colorful, well photographed cookbook, like David Chang's Momofuku, SOS would more likely find a place on my bookshelf.
SOS is a practical cookbook. It's the kind of cookbook that doesn't overcomplicate things. The recipes are great for a beginner cook or someone who has just started to cook for a family. Nutritional Information is listed for all recipes, which a lot of cookbooks don't do. I can't tell you how many dishes that I've made, that I've thought were lower calorie or lower fat, and they just weren't. One dish in particular, was from a Garden Fork Favorite, Chris Kimball and a Best of the Year cookbook series.
Impressively, SOS breaks down into seasonal chapters. Each season lists menus and has a nice little blurb about what's available and seasonal goodness. I showed SOS to my sister and cousin and they liked this feature. They don't always know what's in season, so the seasonal food section was helpful. There's also great information through out the book about healthful snacks or different meal idea.
SOS doesn't jump off the shelf at the bookstore. There's no color photographs or food porn. It's nice to see how some food will turn out before you cook it. Other than that, it's a great book and I recommend that everyone check it out.