Squash Vine Borer eating your squash, pumpkin, and zucchini plants every year? Squash plants dying? Here's how to prevent squash vine borers from eating your squash plants. The borer is the caterpillar of the Melittia cucurbitae moth. The moth lays eggs at the base of young squash plants, both winter squash, summer squash, and pumpkins and the eggs hatch and the caterpillar burrows into the stem of the squash plant, eating the plant from the inside out.
How To Prevent & Protect Squash Plants with our how to video:

There are several ways to prevent the squash vine borer from destroying your plants, I've heard about wrapping the stem in foil or pantyhose to confuse the moth, or placing a square of aluminum foil around the base of the young plant is said to confuse the moth. I have also seen larvae enter the squash plant farther up the stem, so using foil or stockings may or may not work. There are also commercial sprays to deter the moth.
Borer Prevention
Our borer prevention method we learned from our neighbor Priscilla, who can be heard on these GardenFork Radio episodes on growing heirloom tomatoes. The one good thing about Squash Vine Borers is they have only one egg cycle, so once you get your plants past the egg laying time of the moth, you can relax about your squash plants drying from squash vine borers.
You can buy floating row fabric from Fedco Seeds Growing Supplies here.
Check out our gardening how-to video on how to prevent Squash Vine Borers from ruining your squash plants. Let us know how you keep the borers from killing your squash plants below: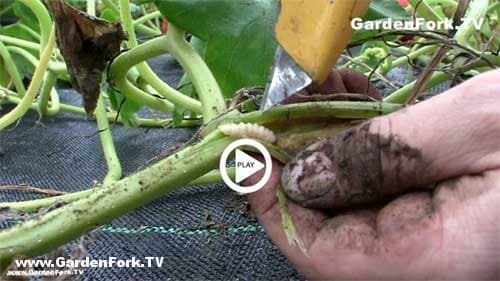 Squash Vine Borer Treatment method #2 Extraction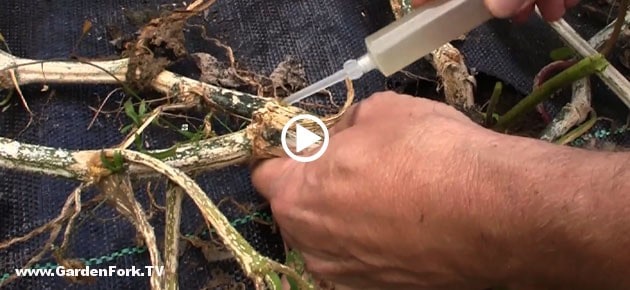 Squash Vine Borer Treatment #3 using Bt