Surfcasting, saltwater fishing from shore, is easy to do, and a great way to learn how to catch fish. In this how-to video we use lures at the beach to fish for striped bass and bluefish. Ocean fishing like this is not complicated, and i'm all about simple is good.
We went surfcasting at Fort Tilden Park, on the border of Queens & Brooklyn in New York City; its pretty wild to be in the city, yet on the ocean, weird dichotomy there between the urban business and the calm of the ocean surf.

A couple of things I learned about ocean fishing on this trip:
Bring along water friendly shoes like those sandles with big holes in them, or don't wear shoes at all if its warm enough
Apply sunblock, the bigger the SPF number the better. Even if its cloudy, you should protect your skin.
Make sure you have the proper permits and are allowed to be fishing where you are fishing. I'm big on following the rules, that's why they are there.
Pay attention to bag limits and eating limits. Around NYC, the fish have accumulated some chemicals in their flesh that you don't want to eat large amounts of.
Buy used surfcasting gear on craigslist, our suggestion is 10- 12' lightweight rod and spinning reel. I used braided line for the first time in this video and it worked well.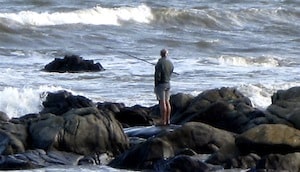 A big thank you to my friend Brian and his dad Jack.
We'll do more fishing videos in the near future, i'm all about eating food that is locally harvested. What are your surfcasting tips? Let us know below: