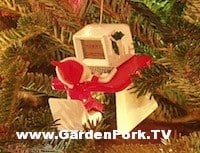 We asked some of the GF contributors for their suggestions for Holiday Gifts, here are their responses:
Monica
• I'm doing my best to buy from my local shop owners, many of which are friends. It's a happier season all around that way. Between the Green Home Store, the Wine shop, the fancy dog treat store, we're basically covered for everyone.
• For product lovers: a Birchbox subscription.
• Tip: Hold off shopping until the last possible minute. The best deals are on or around December 22nd.
Mike
•    Arduino Starter Experimenter's Kit

($34) - This generation's Erector Set.
•    A Lodge Cast Iron Skillet

($19) - The most versatile pan in the kitchen. I never put mine away.
• A Bicycle Tune Up gift certificate from a local bike shop ($50 - $150 depending on the services) - Cables stretch, chains stretch, oil wears away, derailleurs get out of alignment, grease gets old, people don't get their bikes tuned up enough, the riding difference can be night and day. Here's an example from my local bike shop.
•    Gerber Needlenose Multi-Plier 600

($43) - The pliers can be deployed one handed. That's extra handy when holding a bass by the lip with one hand and getting the pliers out to remove a hook with the other.
•    Apple iPad

- I use mine for hours every day. Music, magazines, looking things up, I have electronics tools on it, social stuff, schematics, data sheets, games. Most people I know who didn't think they'd use it much end up attached to it. (Rick agrees and adds: The older ones eyes get, the more you gravitate away from smartphones and toward tablets.)
•    Get someone a bunch of really boring stuff that they use all of the time - something day to day they will no longer have to worry about. Imagine if you didn't have to buy toilet paper for 6 months.
Rick
•    Apple TV box ($95) - and then cut the expensive cable. You can access Netflix and Hulu through the box, then buy TV shows from Apple on a pay-as-you-go per show basis. We're saving tons of cash and we're watching less TV. More importantly, all the TV we watch now is meaningful, not mindless habit.
•    Flashing LED front and rear lights for a bicycle to use day and night. The front flashing light has saved me a couple of times when people started to left turn in front of me and across my path.
•    Lewis N. Clark WaterSeals Waterproof Pouch

($16) - A waterproof swim pouch with waterproof earphones for an MP3 Player. I slip an old cheapy MP3 player loaded with quality podcasts (like Gardenfork) and swim without fear.
•    Jabra STREET2 Bluetooth Stereo Headset

($58) - Allows me to carry my iPhone on my belt but have the headset cord in my shirt and out of the way while gardening. It's pretty much impervious to heavy sweat.
•    Becoming Jefferson's People

by Clay S. Jenkinson - The most Gardenfork-y book I know of: self reliance, gardening, cooking, education, optimism, citizenship, philosophy.
•    What's Wrong With My Plant? (And How Do I Fix It?)

by David Deardorff, Kathryn Wadsworth ($17) - One of the most helpful gardening books I own. The books is a flowchart with logic gates - starting with stem, roots, leaves, fruit, or flower - and then follows a branching logic tree to a diagnosis.
Tony
•    In the DIY vein, make a printed certificate for some task that you can do, and give it to someone who's not so capable, or who may not have much time. Some ideas: paint a bathroom, make a four course roasted duck dinner (or something else nice they wouldn't normally make), organize a garage, or hang shelving units
Sarah
•    OXO Good Grips Salad Spinner

($30) – For anyone who is a member of a CSA, has a vegetable garden, or otherwise eats a lot of greens. It makes cleaning greens so easy that it's well worth the real estate it takes up in the kitchen.
•    Mr. Beer Home Microbrewery System

($33) – A great introduction to how to brew. Buyer beware: May instigate lifelong obsession with homebrewing.
•    Knife sharpening services – This is one of those things I don't get around to nearly as often as I should and am always so happy when I do. A sharp knife isn't just safer, it's also far easier to use.
•    Vitamix 1782 TurboBlend, 2 Speed

($380) – The theory here is you can go through five $100 blenders that don't meet your expectations or invest in a Vitamix upfront. My husband and a handful of family members went in on one for my birthday one year and we use it often throughout the week to process soups, puree winter squash, make baby food, and even grind our own flours.
•    Framing a sentimental photo – In the digital age we take so many pictures but rarely look at them months later. I love the idea of restoring an old photograph so that visual memory is not lost.
photo by mconnors