I was looking forward to reading Nikki Jabbour's The Year-Round Vegetable Gardener because my farming apprenticeship had a significant focus on season extension, as the farm is currently going into its twelfth month of continuous harvest. But we were growing in Virginia, whereas Ms. Jabbour has succeeded in maintaining a year-round garden in the more challenging Nova Scotian climate. Because of this, her book achieves its subtitle: How to Grow Your Own Food 365 Days a Year, No Matter Where You Live.
Listen to Nikki talk with Eric on GardenFork Radio here.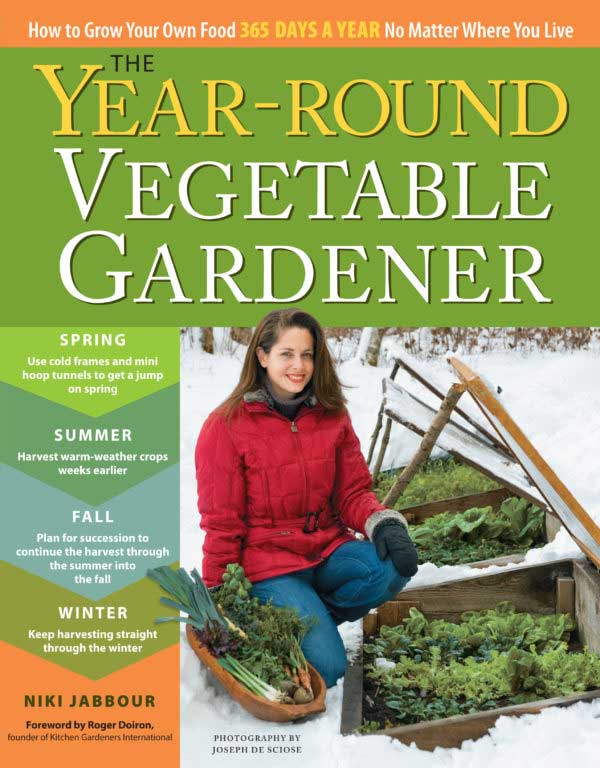 The book is chock full of information, from the basics (timing the seasons and intensive planting) to the complex (building structures to capture and maintain heat). It is comprehensive enough that a relative novice could start with The Year-Round Vegetable Gardener as a valuable resource. A more seasoned grower might be tempted to skip over some familiar-sounding sections, but I would urge you to read cover-to-cover as unique and useful tips are sprinkled throughout the entire text.
The chapter on winter gardening progresses from light protection (like row covers) to using an unheated greenhouse or building your own polytunnel, so a grower in any hardiness zone or variously sized growing space can find techniques to meet his or her needs. The plans to build your own cold frame or polytunnel are easy to follow and call for inexpensive materials. Plus, the chapter motived me with photos of lusciously green vegetables thriving alongside snow and ice.
Like many other gardening books, this one concludes with a crop index. Ms. Jabbour recommends specific cultivars based on cold or heat tolerance or days to maturity and includes an emphasis on vegetable varieties less talked about in other books; for example, Tatsoi has its own entry.


In short: I love this book. It's a wonderful resource for year-round vegetable growing knowledge and inspiration. Now, if only I didn't live in a studio apartment!


Order from Indie Bookstores here
Order from Amazon here. (affiliate links)