Learn how to build a cold frame and extend your growing season with Nikki Jabbour, author of The Year Round Vegetable Gardener. We talk with Nikki about how to use a cold frame to start plant early and keep your harvest going into winter, even in Canada! ( Nikki lives in Nova Scotia, Canada, btw )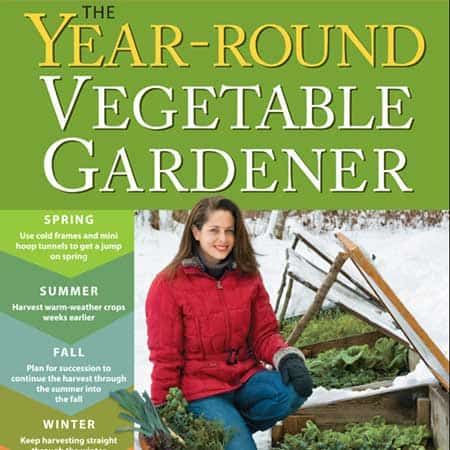 Recycling stuff you were going to throw out into cloches is a big light bulb moment for Eric, and the fact that holes in your lettuce greens at a store or restaurant means that bugs were on them, and that is a good thing, meaning it probably wasn't sprayed with insecticide, is the other lightbulb moment for Eric.
We talk about ways to extend your growing season without spending a lot of money on fancy greenhouses, in other words, how to grow vegetables in the snow. The cool thing about Niki's outlook is that its based on her learning as you go method, much like gardenfork. Simple and easy, made out of recycled materials.
I'm interested in the idea of using newspaper hats as a simple cloche to protect plants for frost. stay tuned.
Read our review of The Year Round Vegetable Gardener here
Order Nikki's book from Amazon here. (affiliate link)
Watch our how to build a hoop house video here.
Watch our how to build a cold frame video here.
A big thank you to Jean Ann Van Krevelen for introducing Niki to us, what fun.