Eric tells about the tick bite he got over the weekend and what to do about it. He had the classic red dot around the tick bite and then a larger lighter red rash area around the it. What is key is to be able to save the tick. If you grab the tick from the side, rather grabbing the tick from behind, is the best way to remove the tick. Slowly pull the tick away from your skin. The skin will pull up, and it may smart a bit, but pull slowly. The tick will release and you can then save it.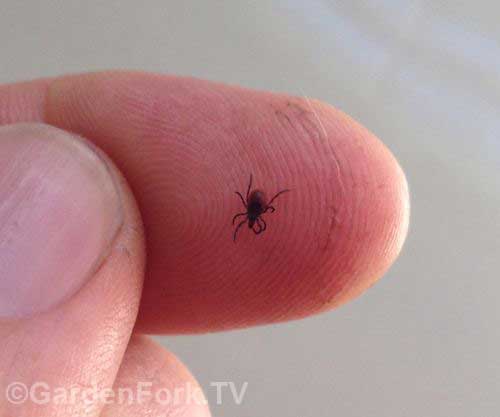 According to Wikipedia, and other sources I have read, here are a few precautions to take to avoid getting a tick bite:
Wear light colored pants
Tuck pants into socks
Spray a DEET bug spray on your clothes
Put your clothes in a hot dryer after being outside
Check your body for ticks after being outside
My neighbor Priscilla has Guinea Hens, who are great at eating ticks. Priscilla says she does not have many ticks in her yard because of the Guinea Hens.
We launched our New DIY show on YouTube, Please Subscribe Here. To make it easier for people and clearer for me, all the DIY and how to videos will be posted on our DIY GardenFork Channel, and the cooking food videos will be posted on GardenFork Cooks.
Feedback on our how to cook steak in a pan video, a viewer suggests we put the box fan in the window, but we turn the fan to one can access the controls on the side rather than the bottom of the fan. Smart, thank you.
We talk about how to make hard cider, and Eric bought some liquid cider yeast to make a new batch for this fall.
And don't forget one of our fall Thanksgiving recipes, Pumpkin Cornbread, and that very cool cast iron skillet with sections
GardenFork is now on Instagram, what fun.