In our recent pumpkin cornbread recipe video, we use a round cast iron skillet with sections, a pan with the pie sections already divided. I love this pan. I can't remember where I got it, but I figured out where to buy it.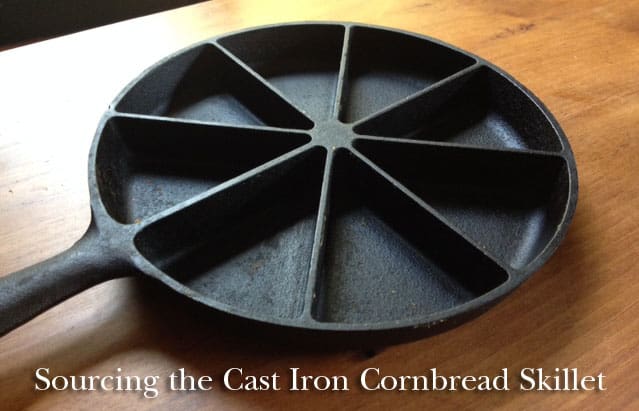 Why Love a Cast Iron Pan?
This skillet has edge wedge already sectioned off, and after you preheat this pan in the oven, you oil the sides of each section, and pour in your batter. The cool thing is each slice of the pan is like getting a corner piece. Each section has that crunchy edge thing going for it.
I learned early on that this pan needed to be well seasoned, and before putting in the batter, use one of those silicon brushes to slather on butter or oil. You don't want the batter sticking, its a pain to clean.
 Be sure to put the pan on a wire grate when you pull it out of the oven, else that burned circle on your countertop will haunt you for a while.
 And cast iron is HOT when you pull it out of a pre-heated oven, use a good oven mitt or gloves, OK? Burned hands = bad.
This pan can be kinda difficult to clean, but for this I pull out an old toothbrush that I keep in the kitchen drawer for this special purpose. You can brush off the baked corn bread batter fairly easily. One could also use one of those small wire brushes, but be gentle. The plastic bristles of the toothbrush work better. Go pull a toothbrush from the bathroom.
Some cast iron pans will come already seasoned. Pre-seasoned is what its called.
Here's one of our how to season cast iron videos: